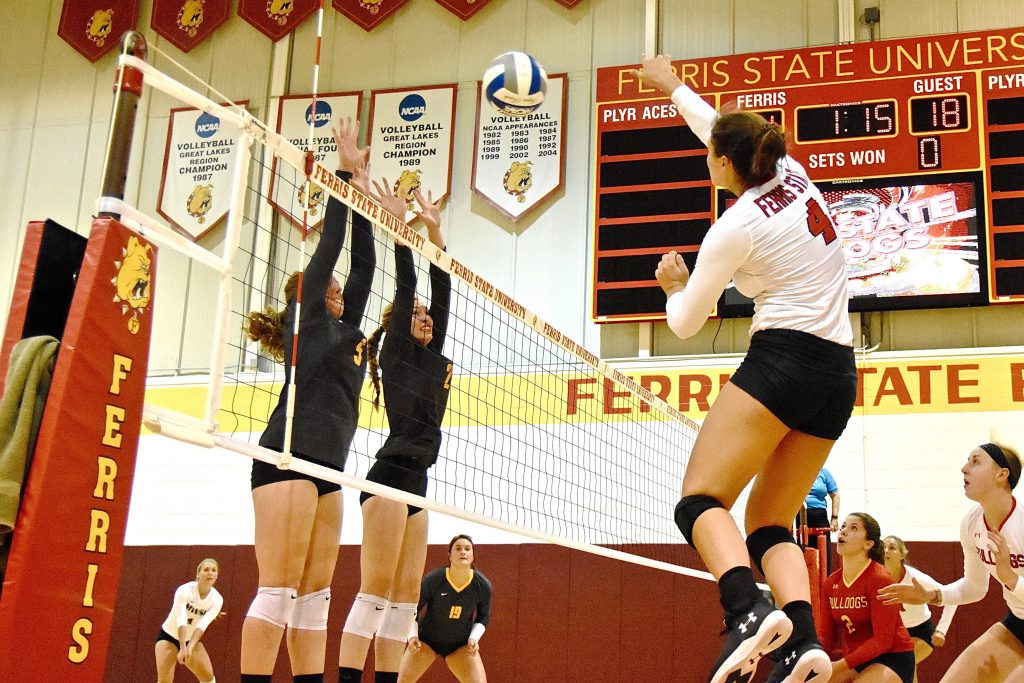 Ferris State's volleyball team is off to an impressive start in a season where the sky is the limit.
Less than a month after beating a pair of Division I programs in Western Michigan and Central Michigan in exhibition match ups, the Bulldogs have solidified themselves as one of Division II's top teams.
"We have a couple more returners than we had last year so I think we have that base. We're just working hard to keep improving," said senior libero Lauren Reminga.
After sweeping the Ferris State Invitational, the Bulldogs set out for Denver for the Colorado Premier Tourney where they came out with an even 2-2 record on the weekend to improve to 6-2 overall.
The Bulldogs started out with a 3-0 win Friday against the University of Tampa before suffering a 3-0 loss at the hands of No. 2 Southwest Missouri State. The Bulldogs bounced back Saturday with a 3-1 win against Central Missouri before falling in a rematch of last year's Midwest Region Championship game against Lewis.
Ferris is using the tough competition early to help prepare them for yet another Great Lakes Intercollegiate Athletic Conference (GLIAC) title defense.
"When we come out here to play these tough teams it's more of a reflection for us to see where we are and what we need to work on," Reminga said. "We just want to keep getting better and working harder to see what we can do."
Ferris was just 2-4 at this point a year ago before they went on to win 28 of their final 30 matches in route to their third straight GLIAC championship and a trip to the Midwest Region Championship game.
After the decent start, the Bulldogs are trying not to get too caught up in expectations.
"At this point we're just going to take it day by day. In practice, we are just pushing each other to be as competitive as possible," junior outside hitter Katie Placek said.
The Bulldogs return to the court on the road against Purdue Northwest University Sept. 15 at 8 p.m.