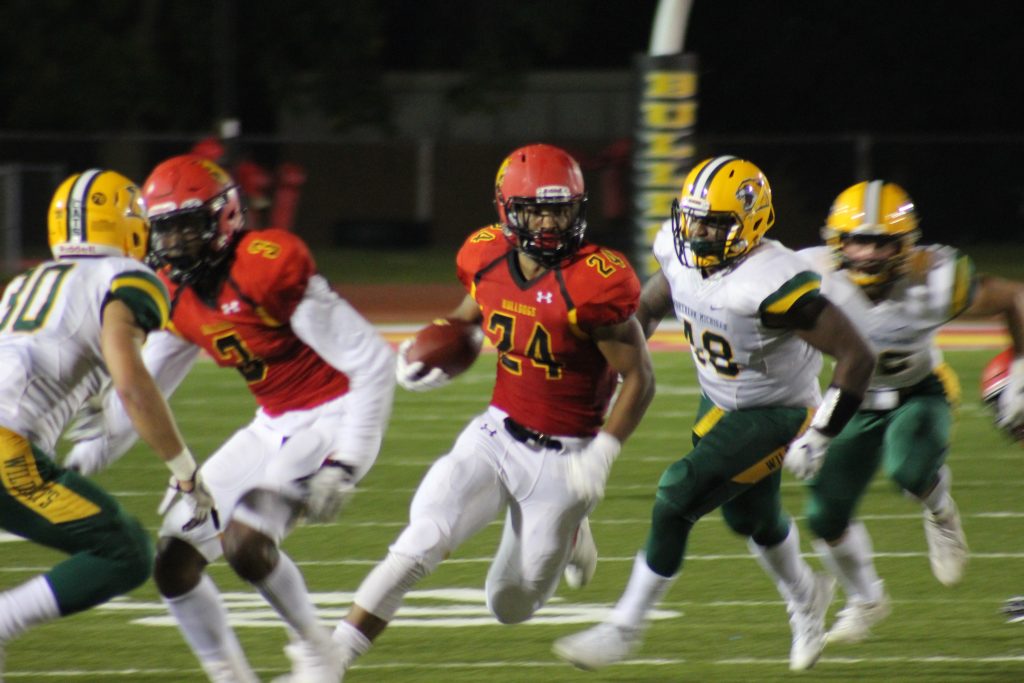 For more photos from the game, click here.
Ferris State football used a strong first half against Northern Michigan Saturday night en route to a 42-10 victory.
For the second straight week, the Bulldogs scored on their first offensive play of the game when senior quarterback Reggie Bell connected with senior wide receiver Jajuan Pollok for a 56-yard touchdown. It was just one play after senior defensive back KC Zenner intercepted a pass off Northern Michigan's senior quarterback Jaranta Lewis.
Though the Wildcats would respond on the ensuing drive to even the game at 7, Ferris reclaimed the lead when Bell found sophomore wide receiver Davontae Harrington for a 31-yard score.
The Bulldogs continued their strong effort into the second quarter as Bell connected with sophomore wide receiver Jevon Shaw and junior quarterback Keyondre Craig for a pair of touchdowns through the air while redshirt-freshman wide receiver Lindrell Michell found the end zone on the ground.
Bell threw for 254 yards and 4 touchdowns while adding 24 yards on the ground before silencing the crowd when he went down with a left ankle injury early in the third quarter. Bell was replaced by sophomore quarterback Travis Russell and did not return to the game.
Junior Malik Taylor led receivers for the second straight week with 6 catches for 86 yards while senior running back Jahaan Brown led the way on the ground with 12 carries and 84 yards. The Bulldogs outgained the Wildcats 637-243 in the game.
The Bulldogs defense responded after giving up an early touchdown by nearly shutting down the Wildcats the rest of the way. Senior linebacker
Terrell Porter led the way for the defense with 8 tackles. Northern was held for just 76 yards on the ground on 30 attempts.
The Bulldogs return to the field on the road when they visit Ashland University next week Saturday, Sept. 23. The game will be aired on ESPN-3 and kick off is set for 7 p.m.