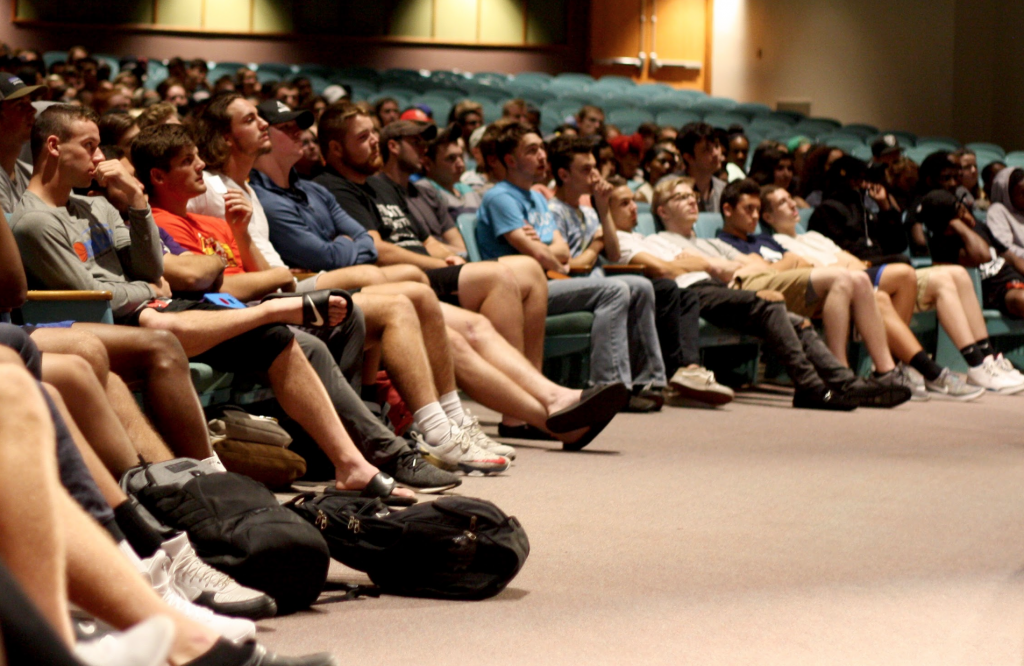 Students have been to many presentations during their grade school years about how the use of drugs and alcohol can be destructive to their lives. It is refreshing when a speaker can make one of these presentations enjoyable, especially when the presentation is required for some classes.
On Thursday, Sept. 14, Jim Matthews made sure Ferris students understood his personal, terrifying and sometimes comical experiences with alcohol while basing his presentation off of his book "Beer, Booze and Books."
"The part of the presentation that made a lasting impact on me was when the speaker made a joke about needing Viagra," Ferris computer networks and systems freshman Jeff Rase said.
This isn't something that most students would expect to hear in a mandatory presentation. This joke was made during the portion of the presentation where the speaker was addressing how alcohol affects men's and women's sexual performance (Spoiler alert, it's negative).
Creating an interactive environment, students were allowed to use their cell phones during the presentation as an incentive to participate in surveys texted to them from the comfort of their auditorium seats.
Bursting with information, Matthews referenced pop culture with scenes from Spongebob and Beauty and the Beast to show how everyone in the auditorium has seen alcohol use since they were too young to realize exactly what it was.
Even though his presentation was information-based, he was clear when stating the message that "information does not mean permission."
Matthews made sure to add a light twist to a presentation about a topic that could have affected many students lives negatively by including jokes, humorous stories and creating moments of strong empathy by explaining his own issues with alcohol in the past.
"I expected the presentation to be more strict but it was comedic and lively," Ferris pre-veterinary freshman Megan Johnson said.
Other focuses of the presentation included alcohol poisoning, alcohol induced amnesia (blackouts), alcohol related violence, sexual assaults, hangovers and risky sex while under the influence.
"I learned that a wine cooler has more alcohol than you would think," Johnson said.
At the end of the presentation, Matthews mentioned how there are many ways to have alcohol-related concerns and questions answered. Matthews recommends students text him at (603) 315-8028, email him at bbbjim@nullmac.com or refer to the website Colledrinkingseries.com.