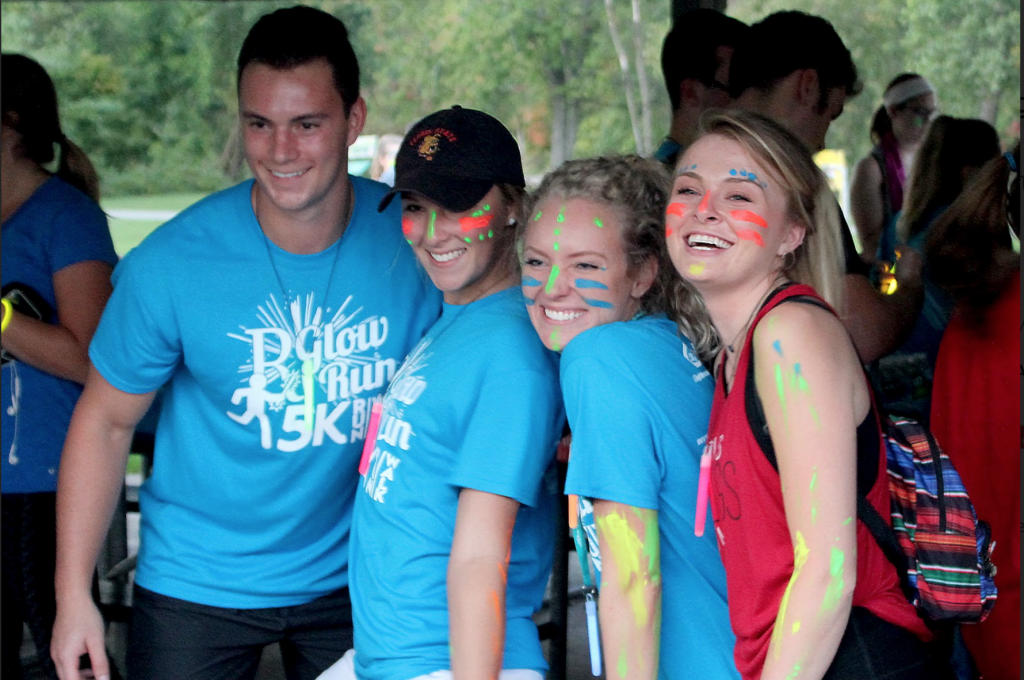 Decked out in glow sticks and splattered with neon paint, runners zoomed throughout town to benefit the Hope House Free Medical Clinic.
The National Community Pharmacists Association (NCPA) chapter at Ferris organized the 5K run/walk. In addition to sponsoring the run, the organization also held a raffle for prizes and passed out water and snacks to runners as the sun went down.
"Last year we had around 30 people show up including volunteers and so far by our rough count around 120 people were involved tonight. It's amazing," Ferris College of Pharmacy graduate student and president of NCPA Darren Jacks said. "We wanted an event the community could get behind and we wanted to support health professionals that do so much in the community."
The Hope House Free Medical Clinic is located at 405 S. 3rd Ave. in Big Rapids. The goal of the clinic is to provide support to low income, medically uninsured adults in Mecosta County. All net proceeds from the event will be donated to the clinic.
"I've wanted to get in shape more and heard about this event and got excited. It seemed fun to get involved with and my goal is to finish the race and to jog at least part of the way," Ferris graphic media management freshman Marielle Bender said.
The race began at 8 p.m. on Friday, Sept. 15 and saw Ferris students and Big Rapids residents alike walking and running throughout the path set within town.
"This is my first 5K and I just hope I can finish with a good time. My roommate told me about the event and I'm just feeling out a lot of activities throughout town," Ferris music industry management freshman Ryleigh Spetosky said.
Ferris assistant professor of pharmaceutical sciences Shelby Kelsh came in 1st place with a time of 17 minutes, 27.5 seconds.
To learn more about Hope House Free Medical Clinic, call their office at (231) 598-9500 or visit their Facebook page.
For more colorful photos from the event, click here!