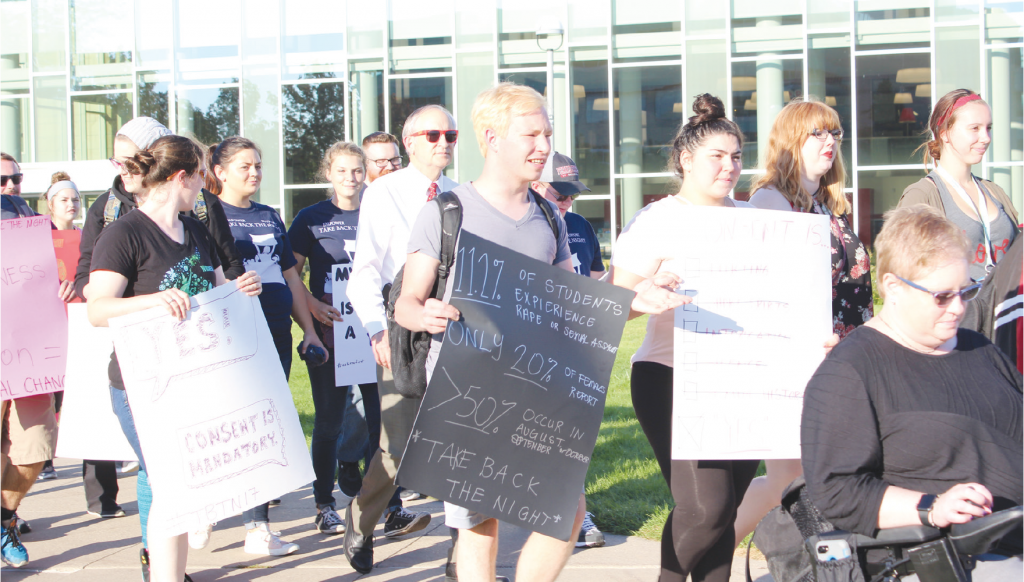 Sexual assault is an epidemic taking over the nation, with an emphasis on college campuses.
Take Back the Night, a Five-Star event hosted by the Social Work Association and the Title IX Office, took place Monday, Sept. 18. The event aimed to inform students about sexual assault and provide support to those affected by it.
The event began at 6 p.m. in the North Quad, where participants marched through campus. At 7 p.m., a performance about sexual assault by Theater Delta took place in the University Center. After the performance, professionals from the Women's Information Services (WISE) were available to talk to students for emotional support.
"It's so early in the year because it's back to school, which is when the majority of sexual assault happens on campus," said Ferris social work senior Charlotte Halm, the president of the Social Work Association and head of the event. "One in five women and one in 16 men are sexually assaulted while in college on college campuses and 90 percent of sexual assaults on college campuses go unreported."
According to Halm, the last time Take Back the Night occurred at Ferris was in October of 2015. The event returned to campus to raise awareness, teach students what to do if sexual assault occurs and what to do to help prevent it.
"That's the goal, really, is for someone to walk out knowing at least one more thing about what they can do to help, whether it's supporting a survivor, what to do if someone is closest to you, who to go to if you do need to disclose [information]," Halm said.
Students of many backgrounds attended the event to learn more about sexual assault.
"Everyone needs to know," Ferris respiratory care senior Stacey Nanasy said. "Whether you're a woman or a man, you need to know everything you need to know about sexual harassment."
Title IX Coordinator Kevin Carmody believes that sexual assault rates are gradually going down as people are becoming more aware.
"It seems that we're getting more and more aware," Carmody said. "Whether or not that means sexual assault is happening more or less, I tend to think it's not happening more. I tend to think we're shining lights in dark places where things have been happening for a long time."
According to Carmody, raising awareness, reaching out to talk to others about sexual assault and knowing you're not alone are three big steps people can take to lower the statistics.
"The good people far outnumber the bad, in this community and around the world," Carmody said. "So often, when we hear someone joking about sexual assault, we see someone potentially about to commit a sexual assault, we start to think that we're the only one that's upset by it. Chances are good that there's a lot more of us that are uncomfortable by it."
There are many other ways students can help prevent this from happening. According to Ferris social work senior Jenna Gordon, people should intervene when they see a sexual assault about to happen.
"Don't be like a bystander," Gordon said. "Just hop in and try to stop whatever's happening."
Carmody thinks that standing together against sexual assault, which is what Take Back the Night is all about, is the most important thing people can do to prevent it.
"We have a voice and we can speak up and call it out for what it is," Carmody said. "And I think that that, more than anything else, that's what's gonna change the numbers. That's what's gonna make it so that we have less people in this community and around the world experiencing a sexual assault, is the good people standing up and saying 'Not here. That's not what we want in our community.'"