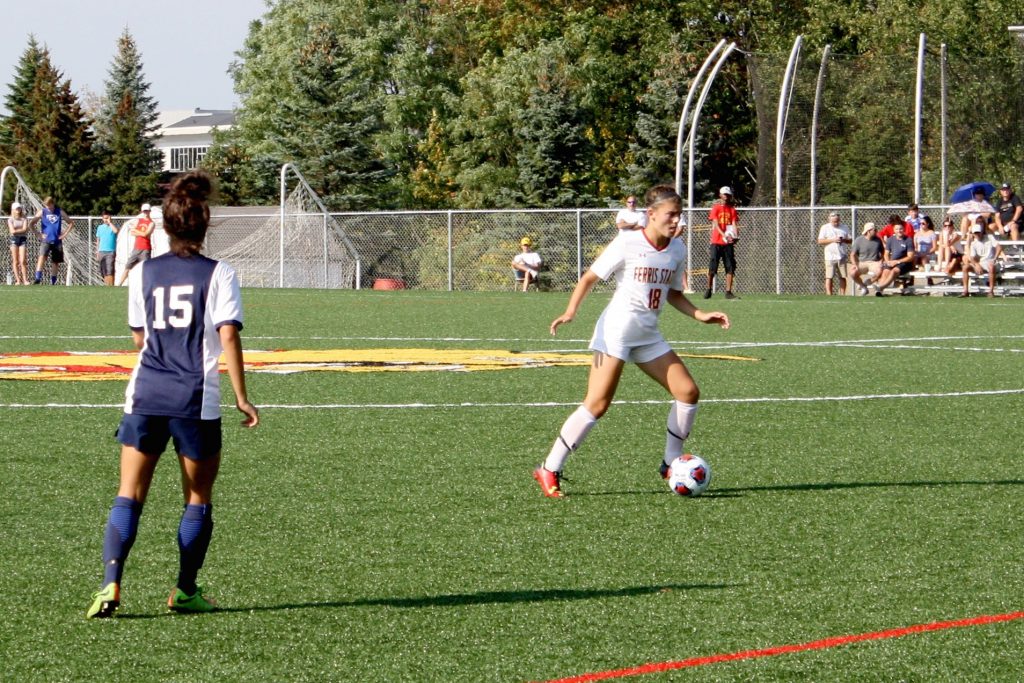 One moment they look incredible, the next they're struggling to score.
This is what has haunted the Ferris women's soccer team so far in the season.
Finding twine was also an issue last season for the Bulldogs and if you don't score, it's difficult to win. The team finished 6-8-4 overall last season, only scoring 17 times.
Overall this season, the Bulldogs are averaging nearly 22.2 shots per game yet it still has been a struggle to put the ball in the net.
"Some of the struggles so far have been getting everyone to stay tuned in and ready to go at every game. The past two weeks we have played three games a week and it is tough to keep intensity high but I think we are doing a pretty good job of it," junior midfielder Lexi Schodowski said. "We have been focusing on film and the little things like finishing our opportunities and framing the net."
So far this season there have been three games in which the Bulldogs have lost 1-0. In those three games, the Bulldogs struggled to put the ball in the net despite their high number of shots on goal.
There has also been a pattern this year of winning every other game. The team has struggled to win consecutive games.
"Recently we just have to do the little things correctly and be more composed in front of the net. The coaches have stressed we need to work on playing to feet and having more options when we are on the ball and then being composed," junior captain Carley Dubbert said.
The Bulldogs answered their coaches' advice with a spectacular week of soccer beginning with a 3-2 victory Sept. 20 over Madonna.
Ferris continued to look good over the weekend, taking down the Northwood Timberwolves 5-0 on Sept. 22 in an offensive onslaught and the Saginaw Valley Cardinals 2-1 on Sept 24.
Ferris appears to be changing their offensive habits around as they have rambled off three straight wins, which is good enough for a 6-4 overall record.
The women's soccer team was picked to finish in the top half of the 2017 GLIAC standings heading into the season. The preseason rankings had the Bulldogs sitting in fourth place among the 10 other teams in the conference.
The Bulldogs advanced to their seventh-straight GLIAC Postseason Tournament in 2016, which stands as the best stretch in school history. The team has also advanced to the GLIAC Postseason semifinals three out of the last five years.
The soccer team will return to action Sunday, Oct. 1, 1 p.m at Grand Valley State University.
Click here for more coverage of the Bulldogs' soccer season.