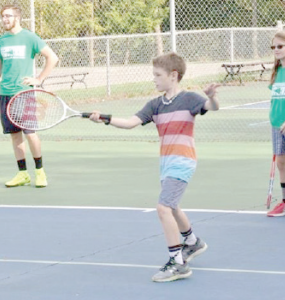 Getting to share a passion with others is a dream come true. But teaching a passion to younger peers and getting community service hours for it can be even better.
"I appreciate community service and having the opportunity to teach kids tennis in an emerging environment. It's the easiest community service in my opinion," Ferris actuarial science senior Ashley Sowinski said.
Being a member of the Ferris Club Tennis team, this is Sowinski's fourth year helping with Tennis in the Park, an organized event where kids gain valuable tennis experience and keep active in a new environment.
"On Tuesdays and Thursdays, we get a group of kids from the middle school to come out and play some games with us. The kids are what make it worthwhile—getting a racquet in their hands always brings a smile," Ferris professional tennis management sophomore Andrew Seely said.
These participants are eager to teach and be taught. According to Seely, the program was promoted by putting up flyers in Big Rapids Middle School and by word of mouth. They are still accepting latecomers for the current program, which began Sept. 12.
Though there is a limit of 24 kids attending the program, this allows for each child to receive equal attention from the volunteers.
"It's a low stress and fun environment that makes learning tennis enjoyable and easy. We try to appeal to all levels through the program but we do find that this program is the first time that a lot of these kids are playing tennis, so being able to make it fun and low stress is super important," Ferris professional tennis management fifth year Michael Manning said.
The volunteers set up matches and games for the kids to participate in and demonstrate why a skill is important through the games.
"I am one of the volunteers who help out, coming up with game plans for the day, feeding balls, keeping up the energy," Sowinski said.
The goal is to keep a light and fun atmosphere while working on the participant's skills.
"We work on skills within the games like hand eye coordination and speed rather than running it as a workshop," Seely said.
Tennis in the Park will be held from 3:30 p.m. to 5 p.m. in Hemlock Park. For information on how to register go to brpr.org or call the City of Big Rapids Recreation Department at (231) 592-4038.