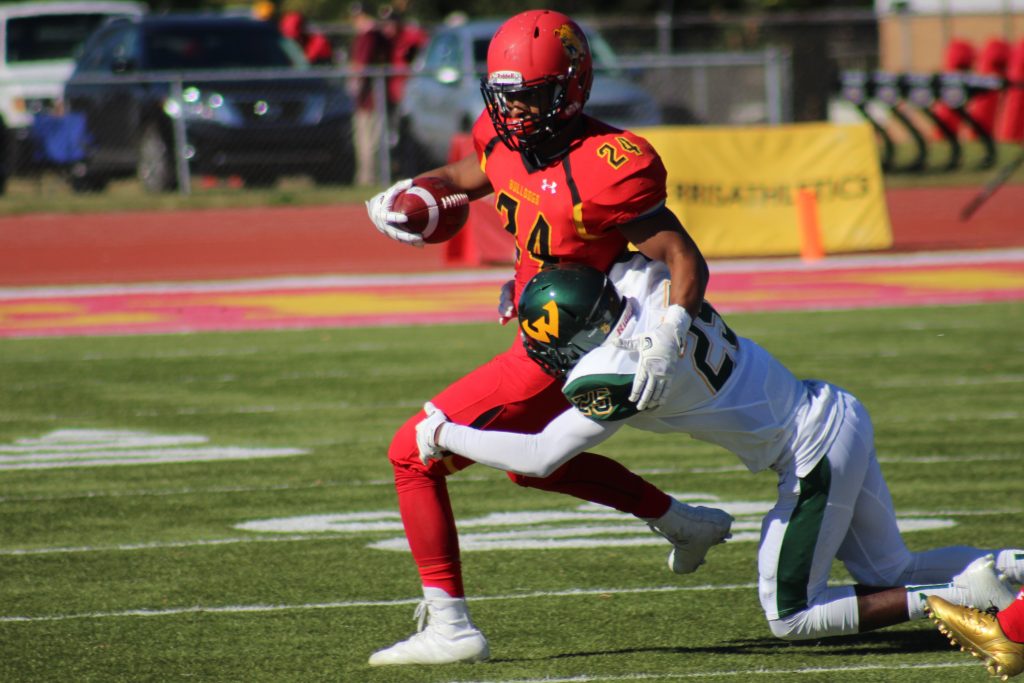 To see a full photo gallery of the game, and homecoming royalty, click here.
The Bulldogs used a very strong first half en route to a 59-17 victory over Wayne State Saturday during the annual Homecoming game.
The No. 15 Bulldogs took a 38-10 lead to halftime after a strong effort all around. The special teams unit blocked two punts, the defense forced two Wayne State turnovers, and the Travis Russell-led offense found much needed rhythm in the first half after struggling last week against Ashland.
The Bulldogs defense stood tall early before recovering a blocked punt in the end-zone to take an early 7-0 lead. Travis Russell got comfortable under center for the Bulldogs when he drove Ferris right down the field on the offense's first drive of the game to push the lead to 14-0.
The Bulldogs built a 31-3 lead before Wayne State tossed an 89-yard touchdown pass to cut the lead to 31-10. That was about all the good the Warriors could find in the first half as Travis Russell added another touchdown on the ground late in the half to push the Bulldog lead to 38-10.
Ferris only outgained the Warriors by 23 yards in the first half but dominated in almost every other aspect of the game and it carried over to the second half.
The Bulldogs used a strong return to start the second half and drove right down the field before sophomore Jevon Shaw came into the game and added a touchdown on the ground to make it a 45-10 game. After an interception the Warriors used a 56-yard touchdown on the ground to cut the lead to 45-17 after three quarters.
The Bulldogs added a pair of touchdowns in the fourth quarter to really put the nail in the coffin. The Bulldogs put up 488 yards of offense on the day.
Sophomore quarterback Travis Russell had a strong effort in the win after struggling last week against Ashland. Russell threw for 199 yards and a score and added 56 yards with two scores on the ground.
Junior Malik Taylor led receivers with four catches for 86 yards and a touchdown.
The Bulldogs will return to action Saturday, Sept. 7 at 1 p.m. at Top Taggart Field when they host Tiffin.