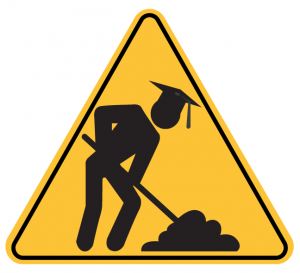 Whether it's for groceries, gas or pocket change, all students need one—a job.
There are so many places where students can find a part time job where the commute is walking five minutes to work and they never have to use the phrase: "welcome to McDonald's, can I take your order?"
Working 22 hours a week and taking 16 credits, Ferris computer information systems senior Brandon Nylund is one student who is busy from sun-up to sun-down.
"Pretty much from 8 a.m. to 6 p.m. I'm either in class, in an RSO meeting or I am [at work]," Nylund said.
Nylund has been an employee of TAC since June and recommends for students who are looking for a part time job to find one on campus.
"[It] gives me an extra feeling of accomplishment and because this is related to my major a little bit, I can feel like I get more experience out of it," Nylund said.
Nylund is not the only student who found an on-campus job as practice for his future career. Ferris advertising senior Brooke Krozek is learning things as a graphic designer for CLACS that she will later put on her resumé.
"I get experience working with clients. I put that on my resumé so I can show that I know how to kind of communicate with clients and get what they need done," Krozek said.
Krozek has varying responsibilities when she's at work that consist of meeting with and scheduling clients who need designs, e-mailing proofs and covering the front desk when needed.
Though her tasks are great for experience, Krozek lives with her roommate, making a part-time job a necessity for gas, utilities and groceries every week.
"I don't make enough to support myself fully with only this job but usually in the summer I try to save up," Krozek said.
Ferris communications senior Zac Cook is another student whose responsibilities make his part time job at Starbucks a necessity.
"I worked for a corporate Starbucks for about six months before I worked here. So now I've been working here for a little bit over a year," Cook said.
Living with his Sigma Pi fraternity brothers, Cook spends his earnings on food. Ferris criminal justice junior Johntia Mitchell saves her earnings for gas and rent.
Though she works at a car rental shop in her hometown of Detroit over the summer, Mitchell can be seen at her on campus job at the Ferris Bookstore—a job she enjoys because of the number one benefit of an on-campus job.
"If you want extra money in your pockets and don't want to ask you parents, it's a good thing to get a job on campus because they follow your schedule," Mitchell said.
Whether it's the Rock, the Quad, FLITE, CLACS or any of the other available jobs on campus, Mitchell and Krozek agree that on-campus jobs are more likely to work with a student's school schedule.
"They understand school comes first and job comes second," Krozek said.