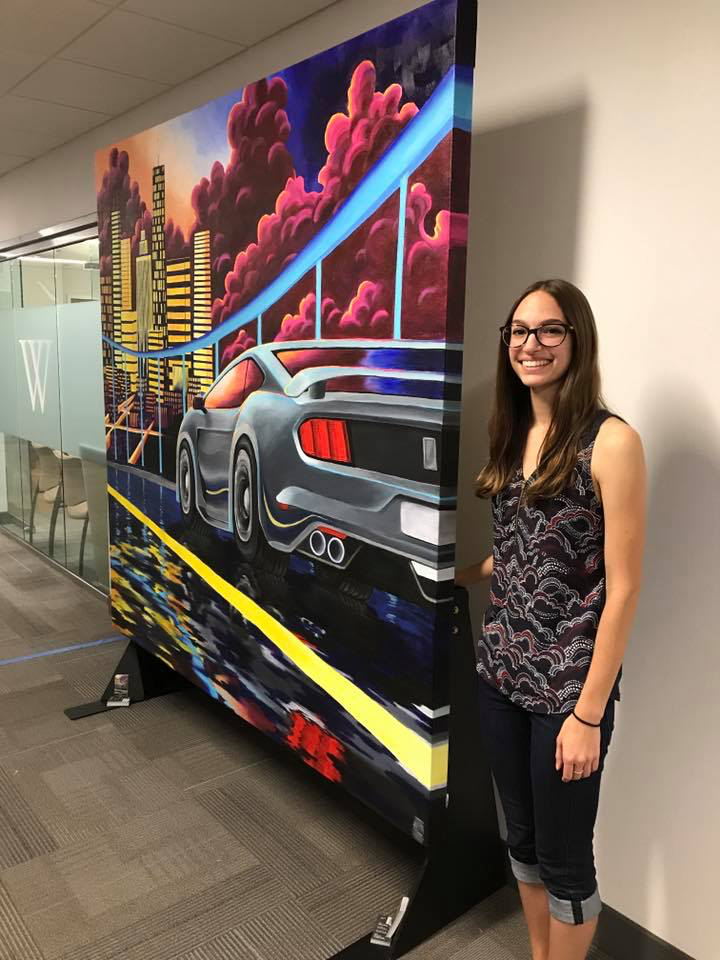 With crowded streets and the smell of hot dogs in the air, people bustled about, taking photos and mental images of the art that Grand Rapid's ArtPrize presented.
This is Ferris product design senior Mikala Piller's first year participating in ArtPrize and her new experiences have left her amazed and proud of her work.
"I'm excited to be a part of such a friendly and experienced art community," Piller said.
Piller's piece, "Driven," is a 6 foot 4 inch square acrylic painting depicting a 2016 Ford Shelby GT350.
"I used bright, exaggerated colors and chunky brush strokes to try to capture the excitement and thrill of driving," Piller said.
Though her piece is in Grand Rapids, Piller's inspiration was an encounter she had at Ferris.
"I went to the Ferris State Car Show last spring, put on by the Bulldog Motorsports Club with the intention of finding a car to paint, so I could study it in person. Pictures don't do a car's curves justice," Piller said. "I noticed a Shelby at the show and immediately felt inspired."
Piller said the process of creating her art was cut short because of the June 2016 deadline for ArtPrize entries. She was able to spend one week building and stretching her canvas and an additional three week to prime and paint her piece.
Piller always knew she was an artist at heart.
"I have been doodling since I could hold a crayon," Piller said. "When I was little, I would draw in the margins of coloring books because just coloring the given picture just wasn't my thing."
Piller has won awards for her artistic talents before, such as the Merit Award in the 2013 Congressional Art Competition and even had a few private buyers while in high school. However, ArtPrize offered her a more creative opportunity that has left her with no regrets in entering this annual Grand Rapids event.
"My ArtPrize experience has been overwhelming but amazing," Piller said. "I don't think I fully understood how big ArtPrize is until I entered it. There is some really amazing art and not nearly enough time to see all of the pieces I'd like to see."
Piller's art can be seen at the Waters Center in downtown Grand Rapids. ArtPrize will continue until Sunday, Oct. 8.
Did you know that Mikala Piller is a former Torch employee? Check out her collection Torch cartoons by clicking here!