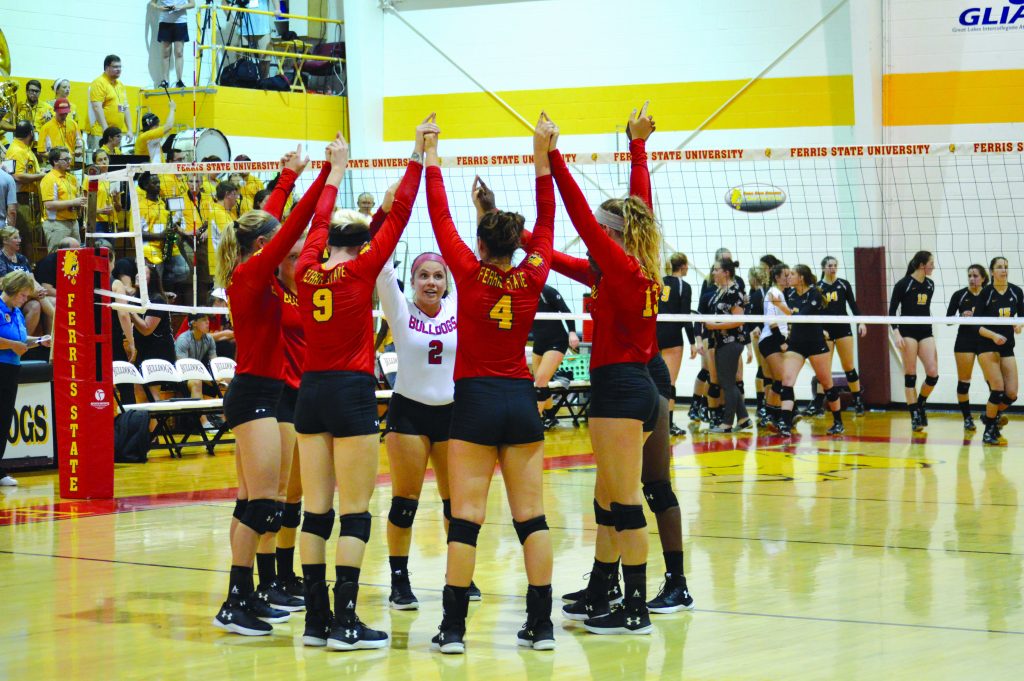 The No. 7 nationally ranked Ferris women's volleyball team is rolling.
The Bulldogs are looking good after four-straight 3-0 sweeps, the latest over Saginaw Valley State Saturday, Sept. 30.
Two of those four sweeps came on the Bulldogs' home court, leaving their home record at 7-0 versus GLIAC opponents.
With an undefeated start at home, what plays into the Bulldogs advantage when they play on their home court?
For starters, any team that has the luxury of practicing on their home court and then playing on that same court is bound to have an advantage.
"It's definitely an advantage for us since we get to practice in our gym every day," Ferris senior middle hitter Maria Kronner said. "A lot of teams in our conference are used to practicing in a larger gym, so it may be a challenge for them when they come to our gym and they don't have as much space as they usually do."
While practicing in your own gym is an advantage, the setup at Ewigleben Sports Complex is also a factor.
The Bulldogs' volleyball arena only has a seating capacity of 600, and with the action so close to the bleachers, it makes it very difficult for opponents to come into the Bulldogs' house and get a victory. The environment is typically extremely loud and condensed with loud Ferris fans.
"It's very loud in our gym so it gives us an advantage as far as momentum goes. Our fans are also really close to our bench so we get a lot of support and encouragement that way," Ferris senior middle hitter Ayanna Buckley said.
Over the past two seasons, the Ferris State volleyball team are 32-5 on their home court, proving that home-court advantage truly does come to play. This record has also helped the Bulldogs to win three straight GLIAC Championships.
"I don't feel any different where we play, home or away. We have the same level of support from parents, locals and students," Buckley said. "I try to play my best game regardless of where I am."
The Bulldogs have four guaranteed regular-season home matches left in which they hope to continue their dominance.
With a 13-2 overall record this season, look for the Bulldogs to have even more home matches when tournament time rolls around.
The Bulldogs will be back in action on Friday, Oct. 6, when they host archrival Grand Valley State University at 7 p.m.