Nick Offerman came to Ferris and he gave the audience all the eggs and bacon he had.
At 8 p.m. Thursday, Sept. 28, Offerman performed in front of a full house as the Ferris Homecoming Comedian. Offerman made jokes in reference to everything from Facebook, to his friendship with Chris Pratt, to his role as Ron Swanson on "Parks and Recreation."
Students and community members lined up outside of Williams Auditorium hours before the doors opened. Every seat in the theater was filled by the time Offerman took the stage.
"I was really excited to see Nick Offerman live since I am a huge fan of him in 'Parks and Rec,'" Ferris business administration junior Lucy Reigle said. "It was cool that we got to see such a big name for our homecoming comedian."
Although Offerman is best known for "Parks and Recreation," many students who have never seen him as Ron Swanson came out to see the show.
"I didn't really have many expectations going into it," Ferris medical laboratory science sophomore Cheyenne Brown said. "I have never seen 'Parks and Rec' but I have heard of Nick Offerman and seen him in other movies. I was really just going to have a good time and laugh and I definitely did."
Offerman engaged the crowd by using local content about Michigan universities and had some audience participation when he borrowed a spectator's Swiss Army knife to clip his fingernail. Aside from traditional stand-up comedy, Offerman played comedic songs he wrote on his acoustic guitar and ukulele.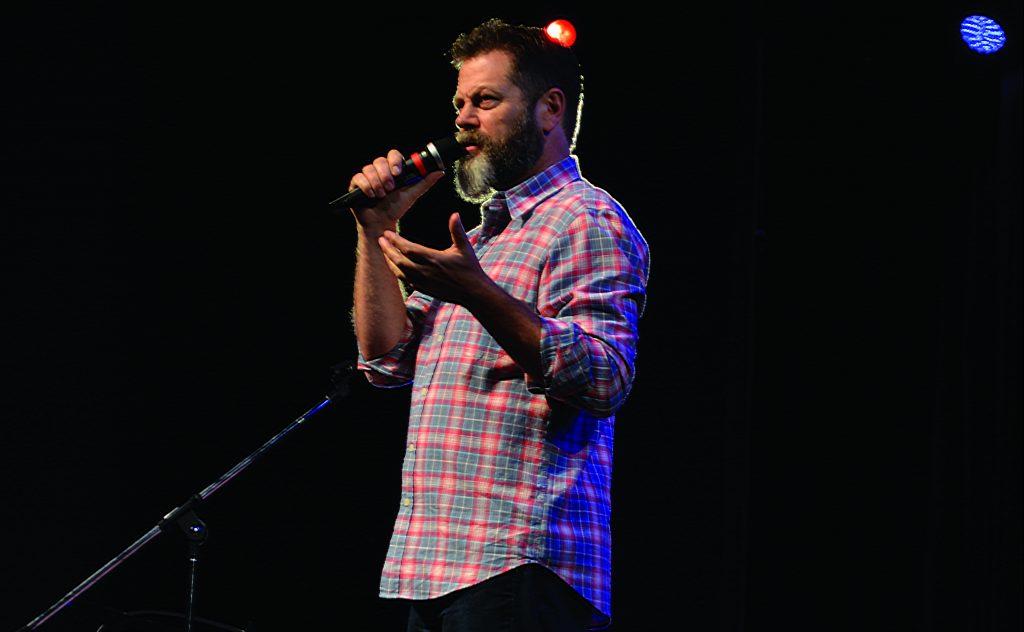 "My favorite part was when he played the ukulele," Reigle said. "It was such a contrast from his characters he's played in the past. I was impressed with his song writing."
Before Offerman came on stage, Ferris plastics and polymer engineering junior Logan Dunsmore performed an act to open the show. Dunsmore described his feelings during his performance as "a delightful mix of utterly terrified and extremely excited."
"I think that is by far my strongest performance I've ever done," Dunsmore said. "It's hard to tell because I have an adrenaline rush from it."
Dunsmore's opening act, which lasted about ten minutes, received positive reactions from the crowd.
"I thought he was pretty great," Ferris pre-optometry freshman Logan Peterson said. "I didn't know we had people that talented at Ferris either, because he was pretty darn good."
Click here for a photo gallery of Offerman's performance.