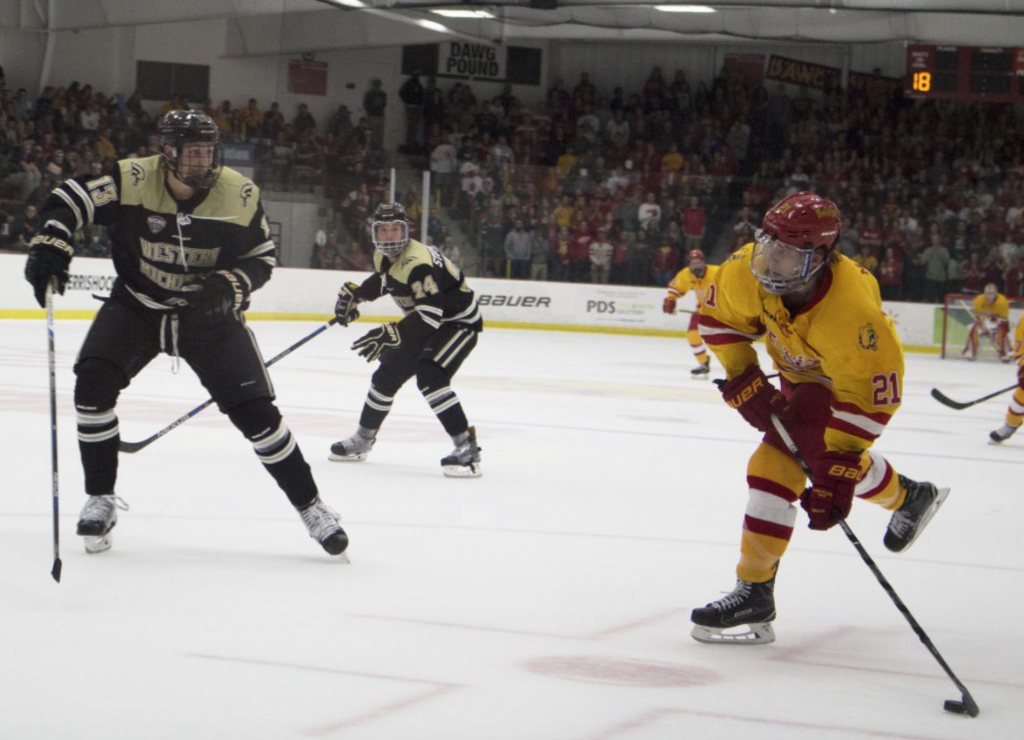 The Ferris State hockey team struggled to get any rhythm on the road Friday as the Bulldogs fell to Western Michigan, 6-1.
The Broncos, ranked No. 20 nationally were all over the Bulldogs from the very beginning, getting their first goal from Paul Washe on the powerplay just 3:57 into the game. The penalty kill didn't get much better throughout the night as the Bulldogs struggled containing a high-speed Bronco attack.
Special teams were the story as Ferris failed converting on six powerplay tries including a minute and a half stretch of 5-on-3 in the third period play while the Bulldogs' penalty kill gave up 4 goals.
The Broncos broke open the game in the second period when they added three more goals including two on the powerplay. Wade Allison kicked off the middle frame with a goal just 11 seconds into the second period.
Colt Conrad added a powerplay goal 6:39 later and Allison threw in another goal with the man advantage when he got one by Ferris goaltender Justin Kapelmaster with 1:40 remaining in the middle frame.
The Broncos didn't hold back in the final twenty minutes as they added two more goals including yet another powerplay goal when Aidan Muir snuck one by Kapelmaster to take a 6-0 lead.
Ferris State was able to pile 17 shots on Western Michigan goaltender Ben Blacker in the third period and Tyler Dorantes fired one by with under two minutes to play to give the Bulldogs their first goal of the season.
The Bulldogs are set for a rematch with Western Michigan when the teams square off Saturday at 7 p.m. at Ewigleben Ice arena for the Bulldogs' home-opener.