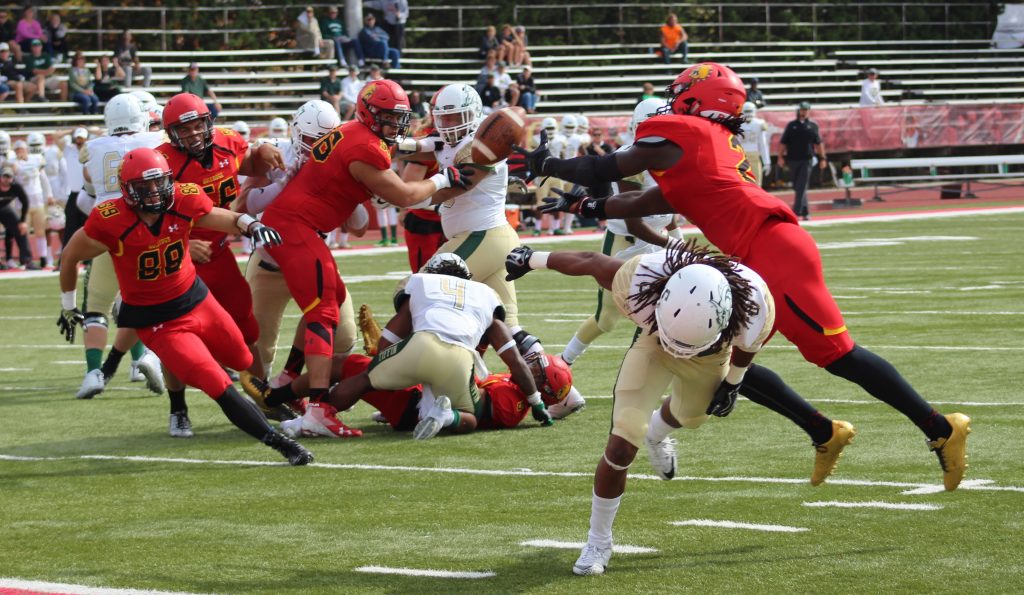 For the third straight week, Ferris football fans have felt the absence of senior quarterback Reggie Bell.
When the Bulldogs took the turf Saturday, Oct. 7, at Top Taggart Field, sophomore Travis Russell made his third-straight start as the lead signal caller. Things didn't look good early.
Five of the offense's seven drives in the first half ended with a punt, as the Bulldogs were stopped by a dominant Tiffin defense. With the wind gusting, senior kicker Wyatt Ford was only brought out for one field goal attempt in the first half.
Heading into halftime all head coach Annese could talk about was "missed assignments."
The Bulldogs heard Annese, storming out of the gates in the second half with Russell looking like a seasoned veteran in the pocket. Add in the amount of extra yardage picked up by weapons like junior receiver Malik Taylor and senior running back Jahaan Brown, and the offense started to heat up.
While the offense struggled early, the defense was on point all game as they held Tiffin to under 300 yards of total offense. Junior defensive end Zach Sieler was in the backfield all day per-usual, racking up 1.5 sacks and 2.5 tackles for loss.
While it may not have been pretty, the Bulldogs knocked off Tiffin 13-3 and improved to 3-1 in the GLIAC standings.
With only five games remaining before playoffs are upon us, will Russell be able to keep the offense's heads afloat until Bell can return to the field?
With a matchup against Saginaw Valley State on tap for Saturday, Oct. 14, at 3 p.m., the Bulldogs really have their focus on the undefeated Grand Valley State Lakers who will come to Top Taggart the following week.