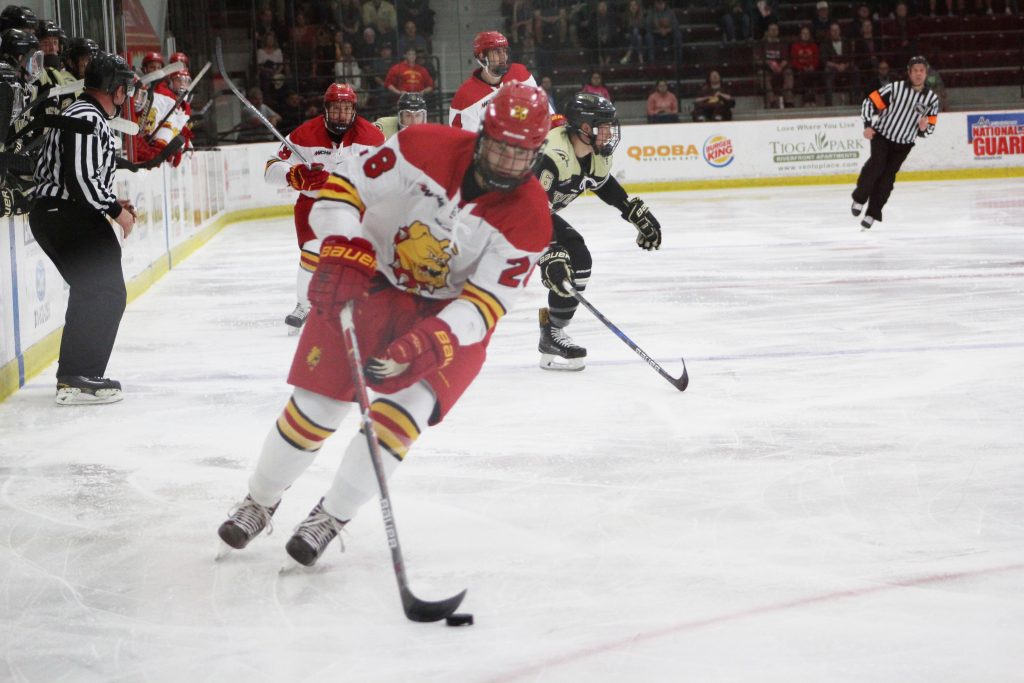 Fists were flying at Ewigleben Ice Arena Saturday evening when the Ferris State Bulldogs took on Western Michigan.
The Ferris men's hockey team found themselves in the penalty box a whopping 11 times. On more than one occasion, penalties were called when players on both sides got a bit too physical.
Despite being on the wrong side of the power play for nearly 30 minutes, the Bulldogs were able to bounce back from a disappointing 6-1 loss to Western Michigan on Friday, Oct. 6.
The Bulldogs looked much better in their home opener as they took down the Broncos 3-2. Senior forward Andrew Dorantes found the net first for the Bulldogs early in the first period for his first goal of the season.
Things looked good for the Bulldogs when Mitch Maloney was able to find the net halfway through the second period. The Broncos weren't about to be pushed around though as Ethen Frank scored unassisted less than 15 seconds later.
In the third period, it seemed Ferris was ready to pull away when freshman Coale Norris scored his first collegiate goal whilst losing his footing to put the Bulldogs up 3-1.
Western Michigan kept fighting however, and brought the game back to within one on a power play goal to make the score 3-2.
The two teams would trade shots for the next 10 minutes, but the scoreboard remained unchanged giving Ferris their first win of the season.
Sophomore goaltender Justin Kapelmaster has been raved about, but it was the senior Darren Smith who took the ice. Smith halted the offense of the Broncos, saving a jaw-dropping 39 shots and letting only two pucks sail past him.
The Bulldogs are now 1-1 outside of Western Collegiate Hockey Association (WCHA) play, and will look to start off conference play on the right foot when they take on Northern Michigan, Friday, Oct. 13 at 7:07p.m. at Ewigleben Ice Arena.