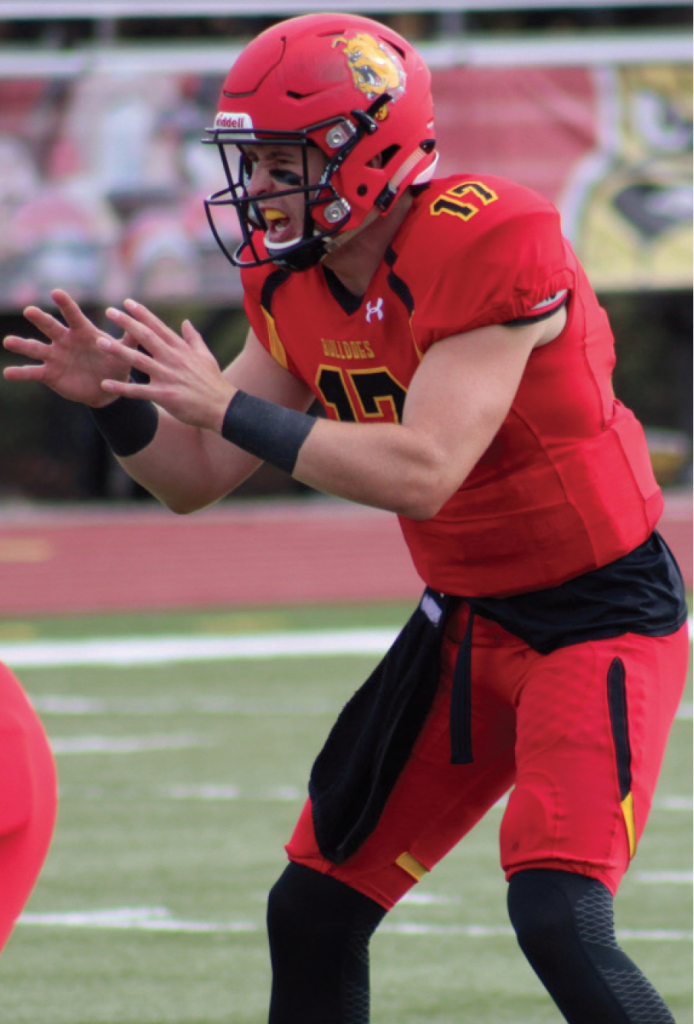 When one man goes down, another must step up. Ferris' quarterback Travis Russell is that next man up for Bulldog football.
Russell, a sophomore from West Catholic who joined the Dawgs in 2015 as a redshirt, was thrust into action after senior quarterback Reggie Bell went down with an apparent ankle injury in the second half of week two's 42-10 win over Northern Michigan.
Russell entered the game and threw two picks and lost one fumble but the Dawgs' early commanding lead gave them the momentum necessary to close the game out.
The following week, Russell started the game on the road against Ashland. The Dawgs were unable to get the offense moving, scoring zero touchdowns and kicking only one field goal to exit Ashland with a 20-3 loss.
"As a gamer, you want to come right in and pick up where [Bell] left off," Russell said. "The reality of the quarterback position isn't really like that, it's a process."
Though he struggled to get that process rolling early on, things quickly turned around for Russell during the following week's matchup against Wayne State, where he showed up ready to compete.
"There's a learning curve, you have to take the ups and take the downs and continue to grow," Russell said. "The game seemed so fast against Ashland but it slowed down for me last week against Wayne State."
When Russell decided that it was time to take it slow, his performance sped up. He led the Bulldogs with 56 rushing yards, topped off by two touchdowns on the ground. Russell also succeeded through the air, hitting junior receiver Malik Taylor in the end zone for a touchdown pass on top of 199 yards through the air.
Russell's 255 total yard performance was just 69 yards off Wayne State's total team yardage and he gives a lot of that credit to his teammates.
"We have so many weapons on offense and a dominant offensive line, so that helps take a lot of the pressure off," Russell said. "I don't have to do it by myself in any way, I can lean on those guys with experience." The sophomore QB appeared in five games during the 2016 season both at quarterback and on special teams, so even though there were some jitters, it wasn't the first time Russell had seen the turf as a Dawg.
"Yes, there were some nerves before the game but knowing that our team and our coaches believe in what our offense can do, that helps me settle in," Russell said.
After Ferris' loss to Ashland, they dropped from the second ranked team in the nation to the 15th ranked team, though a week five victory over Tiffin may improve the ranking.
Russell put up 259 total yards with one touchdown pass in the win over Tiffin.
"I try to play to my strengths when I'm out there, like pushing the ball out quick and running hard in between the tackles," Russell said.
Russell, like Bell, has shown that he is able to beat an opponent on the ground as well as through the air. Russell admired Bell's ability to be a versatile quarterback.
"He's one of the most athletic people I've ever met in terms of what he can do with his body," Russell said. "He can lineup against anyone, anytime, anywhere and be the best player on the field."
Ferris football will make the trip to Saginaw Valley to face the Cardinals at 3 p.m. Sat. Oct. 14.
Click here for more photos of last week's sports action.