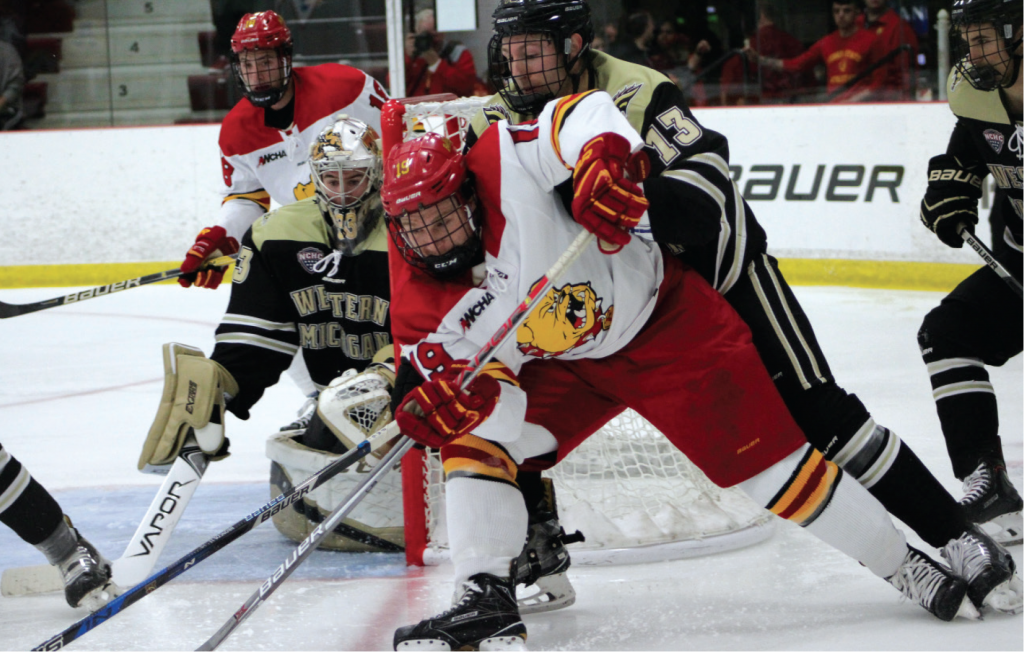 After splitting the weekend with Western Michigan, Ferris' hockey team is officially off to a better start than last year.
The Bulldogs, who started an abysmal 0-7-1 last year, have already gathered their first win of the season thanks to a 3-2 victory over the Broncos Oct. 7. The Broncos came into the weekend ranked No. 20 and earned every bit of that ranking Friday night with a 6-1 victory.
The Bulldogs suffered in their special team plays Oct. 6, going just 2-for-6 on the penalty kill while failing to score on six powerplay opportunities of their own. Western Michigan utilized their speed to overmatch the Bulldog defense in an impressive win to start the season.
The Bulldogs bounced back Saturday night with an impressive win of their own. The young Ferris squad did not let the tough loss from the night before get to their heads as the team battled hard in a tightly matched win.
Despite being outshot 39-25 overall and 15-3 in the third period, the Bulldogs were able to hold on for a 3-2 victory against a team that has had the Bulldogs' number in recent years.
"They've got good size, they play extremely aggressive and well-coached," Coach Daniels said on the Broncos. "It's a team that had a really solid year last season. They made a run into the National Collegiate Athletic Association (NCAA) tournament."
The bad blood from the Oct. 6 game in Kalamazoo carried over to the rematch Oct. 7 at Ewigleben Ice Arena as the teams combined for 47 penalty minutes. Three different major penalties were handed out on the night as well, including a late interference call charged to Ferris freshman Coale Norris.
Andrew Dorantes and Mitch Maloney got the Bulldogs up 2-0 before Western cut into the lead nearing the half way point in the game thanks to an Ethen Frank goal. Norris pushed the Bulldog lead back to two when he scored a highlight reel goal while falling to the ice for his first collegiate goal. It would stand as the game winner as Western scored once late on a powerplay goal by Colt Conrad.
The win already puts the team ahead of last year's team at this point in the season, and they know that they are going to need to keep the wins coming early.
"Wins are a lot easier to come by in the beginning of the year then the end of the year," Maloney said. "It's very important."
The Bulldogs will return to action Oct. 13 when they host the Northern Michigan Wildcats at Ewigleben Ice Arena.
Click here for more photos of last week's sports action.