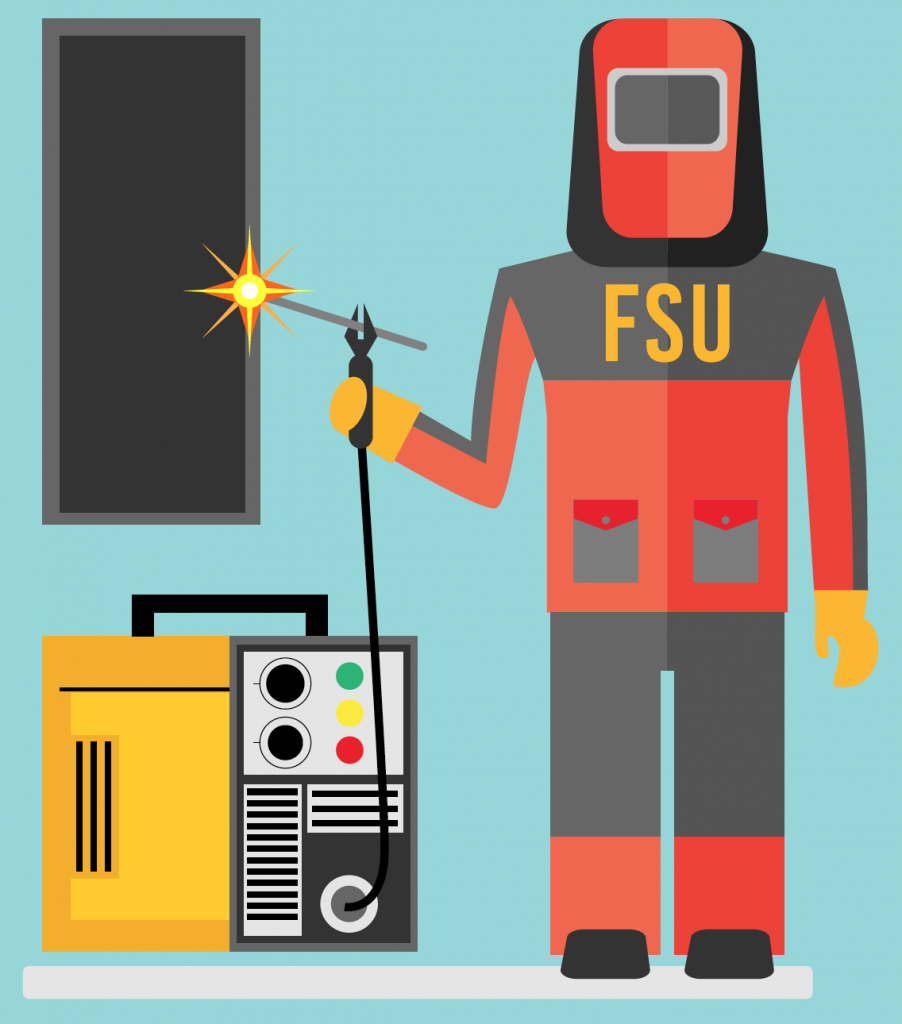 Registered student organizations (RSOs) can be a great way to spend time in university life when so many things are begging for a student's time and money.
The American Welding Society (AWS) at Ferris is advised by professor Brent Williams. He has been the adviser to the student chapter for just over a month and has taken over the responsibility from professor Jeff Carney, who had been the adviser since 2013.
"The AWS Student Chapter provides excellent development opportunities for students to learn, grow and become contributing members of their community," Williams said. "I view my role as an opportunity to build upon those numerous opportunities so that students get value outside the classroom while building lasting relationships and having fun. I›m very excited to contribute my knowledge and leadership to support our student members and their efforts."
Before becoming the AWS advisor, Williams had a history with the RSO.
"I joined the AWS Student Chapter while attending Ferris State as a student myself, way back in 1993. Since that time, I've maintained my membership and have contributed to several code and standards committees as a member-volunteer. Over the past four years and prior to becoming the adviser, I tried to attend as many chapter functions as possible to support our students," Williams said.
Aside from building connections and friendships, AWS provides many philanthropy and certification opportunities as well.
"I have enjoyed participating in the annual Adopt-A-Highway and Riverwalk cleanup events that tend to occur early in the fall semester. Although these initiatives could be classified as community service events, they are a great team building activity that unite members from all areas and levels of the program," Williams said. "It's interesting to see relationships form through this collaborative service activity that helps to benefit the local community.
Recently, I was able to complete the Certified Welding Inspector program offered by the AWS as an internationally recognized professional certification."
Even though the philanthropy events and certifications are a bonus for being part of the society, there are other reasons to get involved.
"There is a lot of volunteer work, professional development aspects and gaining more knowledge of the welding industry," Ferris welding engineering technology junior Devon Weber said. "There are lot of scholarships and academic awards that the AWS alone presents each year as well, which can be rewarding."
Weber has been in the student chapter at Ferris since August 2014.
"Being in the AWS has showed me that I am in the correct major and it has given me insight on what I want to spend my professional career doing," Weber said.
A typical monthly meeting is held to discuss activities. Lunch is sometimes used as a reward for student participation in scheduled events. At the meetings they start by welcoming new members, then review recent activities and events, discuss upcoming events and discuss new business items or issues.
"During a typical meeting, the president talks about upcoming events that the organization plans to take part in, ranging from volunteering such as a highway clean up or Salvation Army bell ringing to going to a paintball event. Then, we also try to get people to head up different events and create subcommittees for those events," Ferris welding engineering technology senior Erin Lalinsky said.
Lalinsky has been involved with AWS since she transferred to Ferris in the fall of 2015. She joined because she knew it would be helpful to her career being part of the professional organization. Apart from the professional development, she does have favorite moments from the meetings.
"I'd be lying if I said I didn't enjoy the food being served. However, as a senior leaving the program it is great to see the students in the other grades working together to make sure events happen and that they will be enjoyable for everyone. Seeing that teamwork in action makes me hopeful that the program and the AWS student chapter will continue to thrive for many years to come," Lalinsky said.