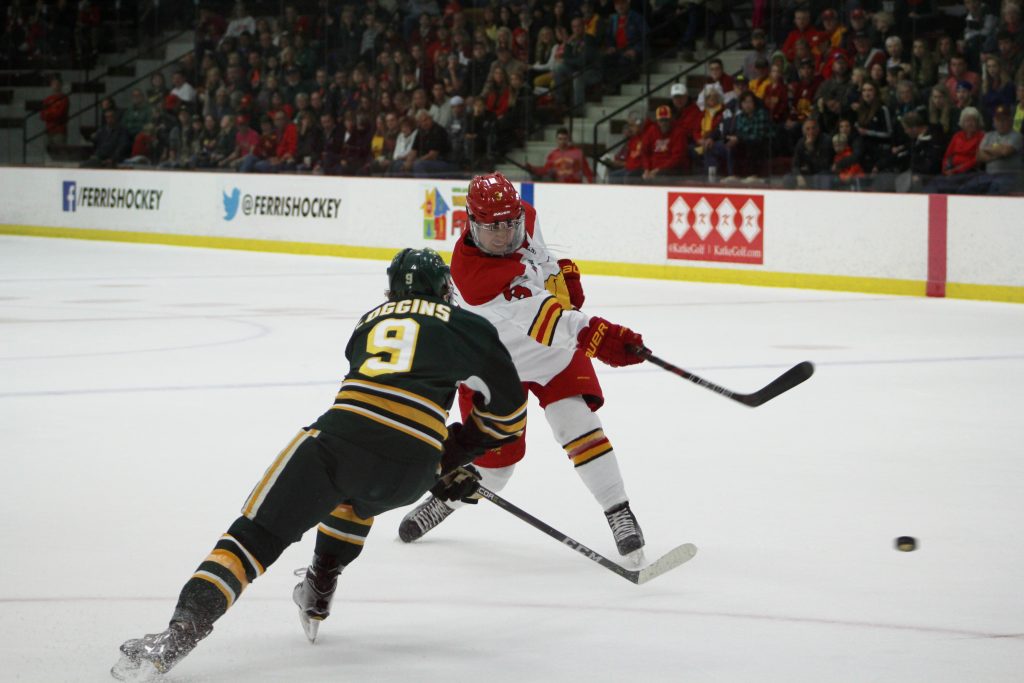 It came down to the very last second Saturday night as Northern Michigan defeated Ferris State 1-0 in WCHA play.
The game was scoreless all the way through until just 0.5 seconds remained when Northern Michigan forward Darien Craighead threw a last second attempt on net that snuck past Ferris goaltender Justin Kapelmaster to put the Wildcats up 1-0.
The story of the night was the solid effort in between the pipes for both goaltenders. Kapelmaster stopped 25 of 26 shots while Wildcat goaltender Atte Tolvanen stopped all 35 shots he faced on the night.
Ferris State carried a lot of the play throughout the game but Northern Michigan took over momentum late in the game. Kapelmaster had to make some key saves for the Bulldogs to keep the game scoreless as long as it was.
Both teams were stellar in their penalty kill play. Ferris killed off all six of their penalties while Northern Michigan responded with a perfect 8-for-8 night of their own on the penalty kill.
With the loss the Bulldogs fall to 1-3 on the year including an 0-2 WCHA (Western Collegiate Hockey Association) record. Northern Michigan improved to 3-1 on the year.
The Bulldogs return to action Friday, Oct. 20, when they travel to Pennsylvania to take on Mercyhurst University. Puck drop is scheduled for 7:05 p.m.