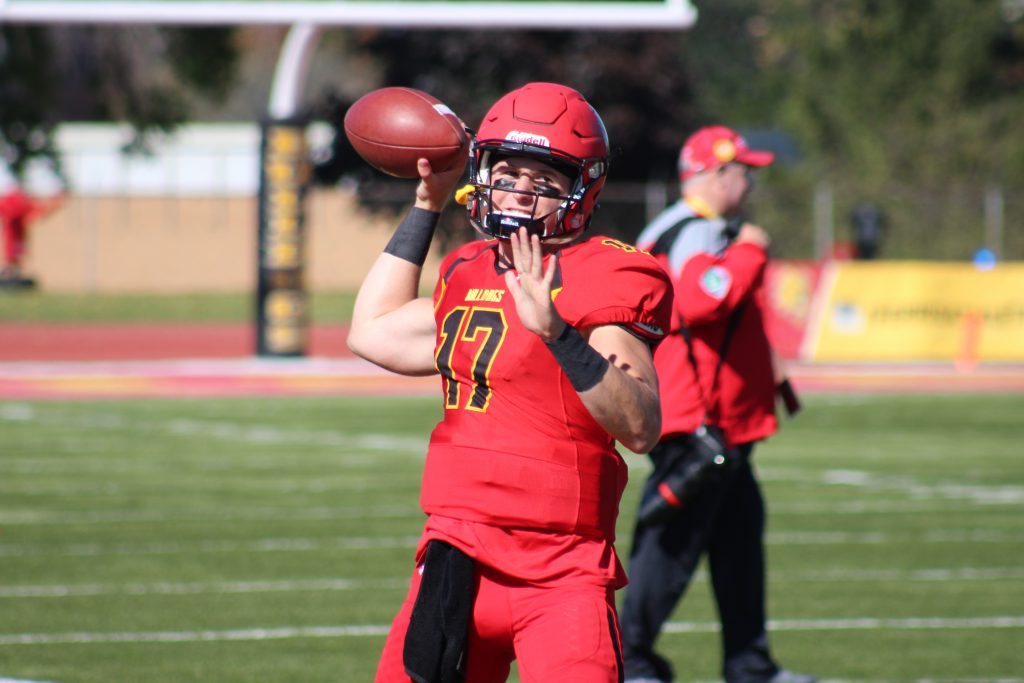 Travis Russell is the man for the Ferris football team, and it would be hard to argue otherwise.
As the Bulldogs took the field Saturday Oct. 14 for their matchup with Saginaw Valley State, senior quarterback Reggie Bell was forced to sit for the fourth-straight game.
So, the sophomore Russell suited up and delivered a 49-17 victory for the Bulldogs, as he has the past three weeks.
Russell looked comfortable in the pocket, picking apart the Cardinal defense to the tune of 18/28 passing for 255 yards and two touchdowns through the air. Russell also tacked on a rushing touchdown to his stat line.
On the other end of Russell's passes was junior wide receiver Malik Taylor. Taylor caught half of Russell's completions, with an astounding 165 yards receiving on nine catches and two touchdowns.
The Bulldogs played a solid game on all three sides of the football. The offense was explosive and the defense held the Cardinals at bay.
Momentum really shifted to the Bulldogs when the special teams unit took the field however. Sophomore Dion Earls had a few impressive kickoff returns, including a 68-yarder that set up the Bulldogs for a touchdown.
Gunners for the Bulldogs also did well at pinning the Cardinal returners in their own territory. Ferris junior and the Torch's own Danny Collins was near the returner on multiple occasions, even stopping a return inside the opponent's own five-yard line.
The Bulldogs also scored off a blocked punt for the second straight week.
Criticism was thrown Russell's way in his first career start in Ashland when the Bulldogs failed to find the end zone. Since then, the young signal caller has looked explosive and is going to give head coach Tony Annese a tough decision if Reggie Bell gets healthy.
The Bulldogs are now 5-1 on the season and will end the month with two home games.
Things will get interesting when the undefeated Grand Valley State Lakers head to Top Taggart Saturday Oct. 21 for the Anchor-Bone Classic. Kickoff for that game will be 1p.m.