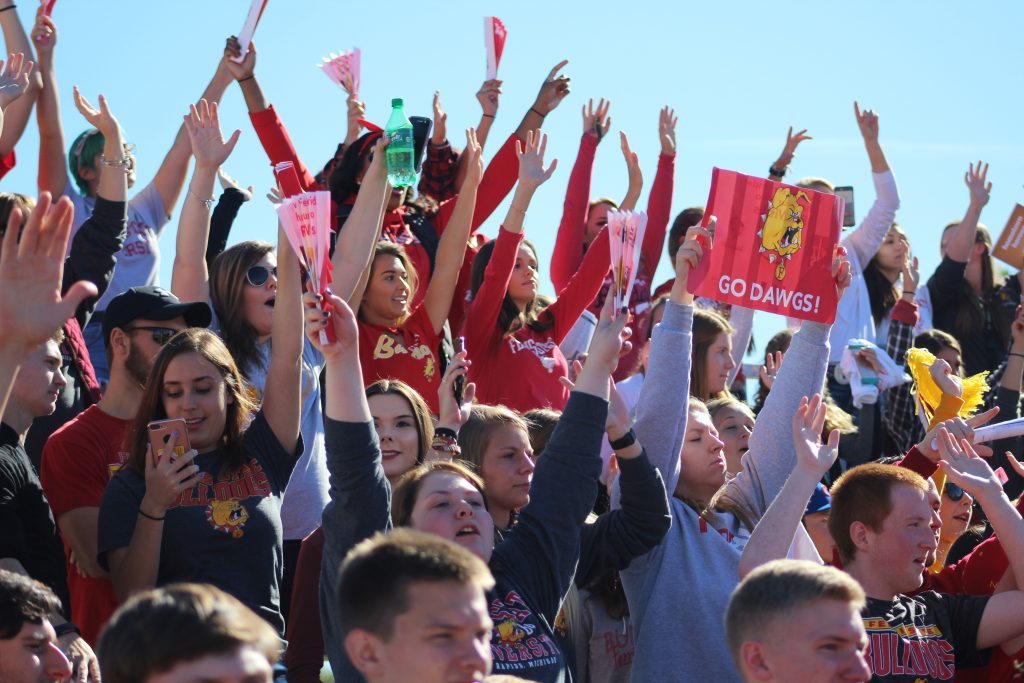 College football rivalries can bring out the best and the worst in any team or fanbase, and all rivalries have their ups and downs.
There's Michigan vs. Ohio State, Alabama vs. Auburn, Army vs. Navy and then Ferris State vs. Grand Valley.
After losing to Grand Valley in the regular season in 2016, the Dawgs will be looking to reclaim the Anchor-Bone Trophy in front of their home crowd this Saturday, Oct. 21.
Ferris senior kicker Wyatt Ford said that he knows that both programs are in for a tough fight come Saturday.
"GVSU is just down the road and the stadium will still have tons of blue and white," Ford said. "That's what makes it so special. Ever since I have been here, it has been back and forth, always a good game for the fans and for me to watch on the sidelines."
Ford was named Great Lakes Intercollegiate Athletic Conference (GLIAC) Special Teams Player of the Week after the Bulldogs week five 13-3 victory over Tiffin.
"Big play after big play will occur and that'll play a big factor in either team's fate for the playoffs," Ford said. "I know they have us in their crosshairs since last December and the Bulldogs are ready."
Ford is referring to Ferris' first ever National Collegiate Athletic Association (NCAA) playoff road win, which came against Grand Valley after making the trip to Allendale last season.
Speaking of that win, Ferris junior defensive end Zach Sieler said that one of his favorite moments in the rivalry came that day when Ferris senior defensive back KC Zenner sealed the victory.
Zenner nabbed a GVSU onside kick and ran it to the house for a 56-yard dagger in the heart with just over a minute left to play in the 47-32 Bulldog victory.
Sieler, a preseason All-American after an outstanding 2016 season, said that he is always looking forward to the big game against the Lakers.
"It's always a great game and with playing them four times in the last two years, it has really made it that much more intense," Sieler said.
Sieler, who leads his team in sacks so far this season and the rest of the Bulldog defense, will need to show up prepared to make some big stops. Against GLIAC opponents, the Grand Valley offense's lowest scoring day was when they put up 34 points against Saginaw Valley.
Against every other GLIAC opponent, the Lakers have put up at least 40 points on their way to a 5-0 conference record. Grand Valley had 2,488 total yards of offense through week five, whereas Ferris had 2,382 total yards.
Laker quarterback Bart Williams has thrown for 1,225 of those GVSU yards in an impressive midseason total but Ferris' quarterback situation is a little hazy. Bulldog sophomore quarterback Travis Russell has stepped in after senior quarterback Reggie Bell was injured in week two against Northern Michigan.
Bell could play after five weeks of rest on the injured ankle but Russell will be ready to play if his team needs him. Russell said that he believes this rivalry is special because of the amount of respect that the two programs have for each other.
"Grand Valley is not where they are by accident and neither are we," Russell said. "We know that we are going to get a really good football team every time we match up with them."
Historically, the Lakers have gotten the best of the Bulldogs. In fact, the 2012 football team headed up by redshirt freshman quarterback Jason Vander Laan was the first time the Bulldogs defeated the Lakers in football since 1999.
Since that 2012 season, the Bulldogs are 5-2 against the Lakers including the playoffs, a real improvement for Ferris State since their 13-year losing streak.
The Anchor-Bone Classic kickoff is slated for 1 p.m. on Saturday, Oct. 21 in Big Rapids as the Dawgs look to dethrone the number one ranked team in the GLIAC.
Click here for more Ferris football coverage.