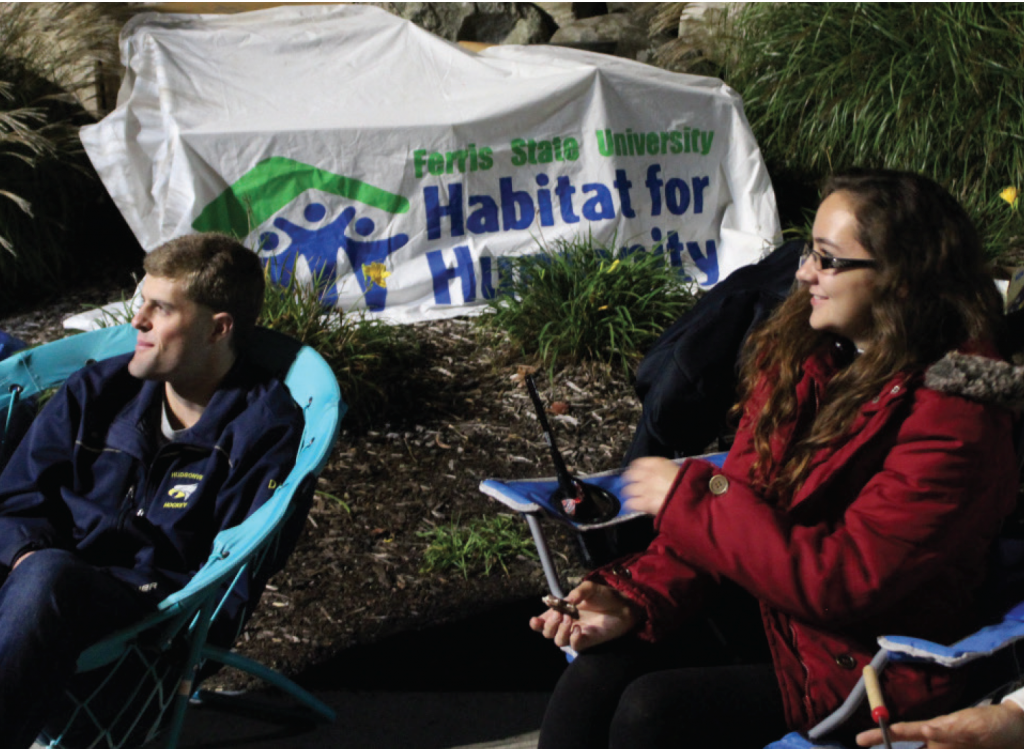 With winter approaching, Ferris students wanted to show that not everyone has a shelter to stay in as the temperature drops.
Thursday, Oct. 12, the registered student organization for Habitat for Humanity held Box City—an event where students spent the night sleeping in boxes to raise awareness for the homeless. Students met outside the Rock Cafe at 6 p.m. Thursday and stayed there until 9 a.m. Friday.
"We're raising awareness for homeless people," Ferris electrical engineering technology senior, president of Habitat for Humanity and coordinator of Box City Kaylie Bohn said. "I don't think a lot of college students think about that right away, so that's why we're sitting outside of the Rock, to kind of get more traffic for people."
The event is meant to simulate the conditions the homeless encounter on a daily basis. According to Bohn, approximately 30 students participated throughout the night.
"Personally, we're doing it right now because it's gonna get colder, so we're trying to beat the cold but obviously it gets worse in the winter time," Bohn said. "It's a lot worse for the people who actually have to deal with it."
Ferris first-year pharmacy student Rachel Mitchell said she enjoys participating in Box City, as well as other events Habitat for Humanity puts on.
"I just think it's really gratifying to be in this organization," Mitchell said. "We get to see first-hand the homeowners that were helping with the renovations, like how much they really appreciate it, us coming out there and just putting in the work, helping out."
Ferris business administration senior and Treasurer of Habitat for Humanity Jake Daggy said his goal is to have students realize how fortunate they are.
"Just don't take anything for granted. Be happy with what you have and be glad that you actually have a home to live in—a shelter, a roof," Daggy said. "Occasionally, you don't have to give a lot of money, but every once in awhile give back. Help out any way you can."