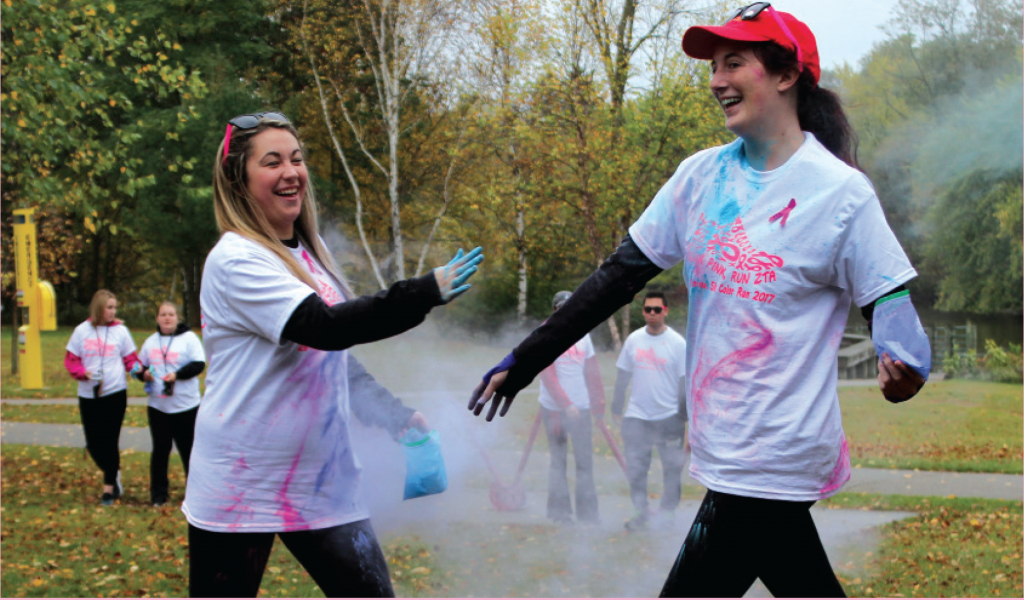 There are only a few ways to make running enjoyable and being bombarded with colored powder is definitely one of them.
Zeta Tau Alpha (ZTA) hosted their second annual color run 5k Saturday, Oct. 14 and raised more than $3000 for breast cancer awareness.
"[Philanthropy] kind of stands for what we stand for as a whole, like what we all get together for, what we all kind of strive to make better in the world," Ferris health information technology junior McKenzie Piper said. "We want to make sure that everyone is aware of what is going on and raise money for any survivors."
The main focus of ZTA's philanthropy is breast cancer awareness and they are partnered with the NFL, Bright Pink and the American Cancer Society.
A few of the ZTA sisters have family members who have or have had breast cancer and for them the event was more personal.
"One of our sisters' step-mom was just diagnosed two weeks ago, so I know this is a really emotional time leading up to this event for her and I know that the day of will be really emotional for her whole family," Ferris pre-dental hygiene sophomore Madelynn Hull said. "Just because this is something that directly affects us and it's also something so broad we all are able to relate to it as well. We can feel the empathy through our sisters."
Behind all the colored powder and miles run, the real success is bringing the community together for one cause.
"I think that Kenzie and I are really thankful for all the people that are willing to contribute to such a good cause," Hull said. "Yes, we have worked super hard to put this event together and we've done so much to be able to accomplish it but it wouldn't be able to be accomplished if we didn't have such a great turnout and so much community and campus involvement."
Click here for a full photo gallery from the event.