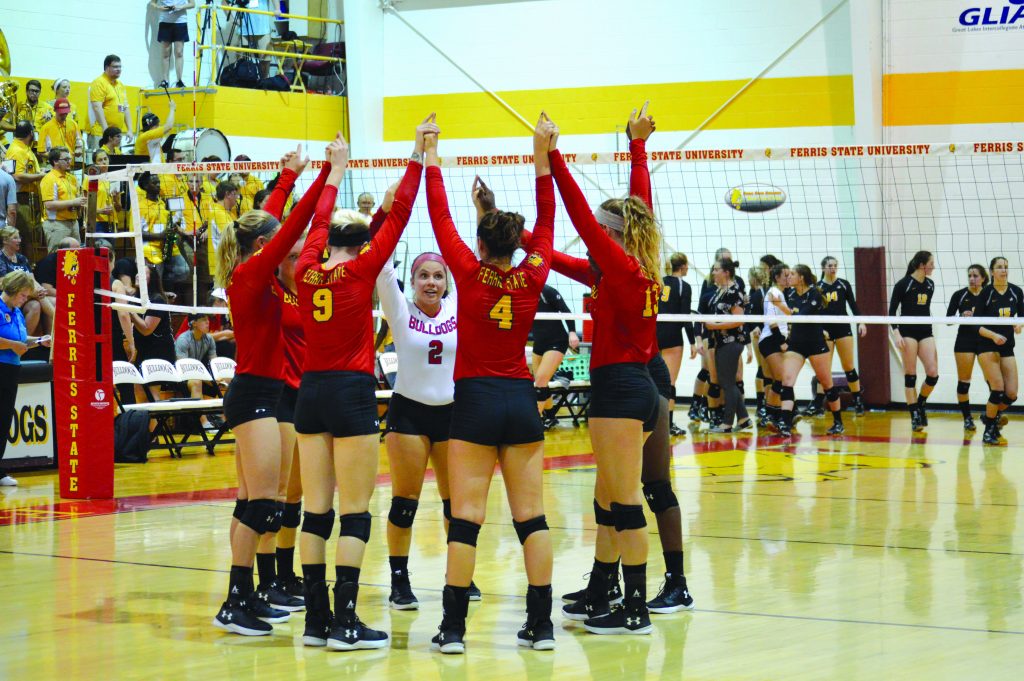 The nationally ranked Ferris women's volleyball team split a pair of matches at the 2017 Midwest Region Crossover on Friday Oct. 13 in Aurora, Illinois.
In the first match, the Bulldogs fell to the Hillsdale Chargers 3-1 and then would sweep the University of Indianapolis 3-0 in the second match at the Great Lakes Center.
The Bulldogs would win the first set against Hillsdale, however the Chargers would not let up as they won three sets with scores of 26-24, 25-19 and 25-20.
The Bulldogs finished off the second match of the day with an impressive win against the Indianapolis Greyhounds with scores of 25-19, 25-19, and 25-17.
Ferris sophomore outside hitter Allyson Cappel led the team in kills in both matches and finished with 44 kills and a .516 hitting percentage for the weekend.
The Bulldogs returned to action Saturday, Oct. 14 against the No. 1 nationally ranked Lewis University.
Ferris redshirt sophomore outside hitter Courtney Brewer finished with a team high nine kills, however the Bulldogs would fall 3-0 to Lewis. Lewis University won all three sets with scores of 25-13, 26-24 and 25-20.
Ferris State hit an abysmal .057 on the day, while Lewis hit .205 for the day.
The women's team also fell to Wayne State Sunday, Oct. 8 after a win over archrival Grand Valley.
"We are taking practice day by day, working to improve our mental toughness game and improving our offense," Ferris sophomore middle hitter Mekayla Carey said. "We're all really committed to the sport and each other. When we come into the gym, we work to get one percent better every day and focus on staying in the moment."
After going 1-2 on the weekend in Aurora the Bulldogs are currently 15-5 on the season and 8-1 in the conference. The Bulldogs are also ranked number one in the GLIAC standings.
"Coach Tia stressed that we get 1 percent better every day and to take every game one at a time," Ferris sophomore setter Maeve Grimes said. "We work hard in practice everyday to create game situations that will help us more forward as we come closer to postseason."
The Bulldogs are currently the three-time reigning GLIAC champions, and will look to repeat this success as the season is entering mid-October.
The team will next be in action in an Ohio split against Ashland University on Friday, Oct. 20 at 7 p.m. (ET) and Tiffin on Saturday, Oct.21 at 5 p.m. (ET).
Click here for more coverage of Ferris State volleyball.