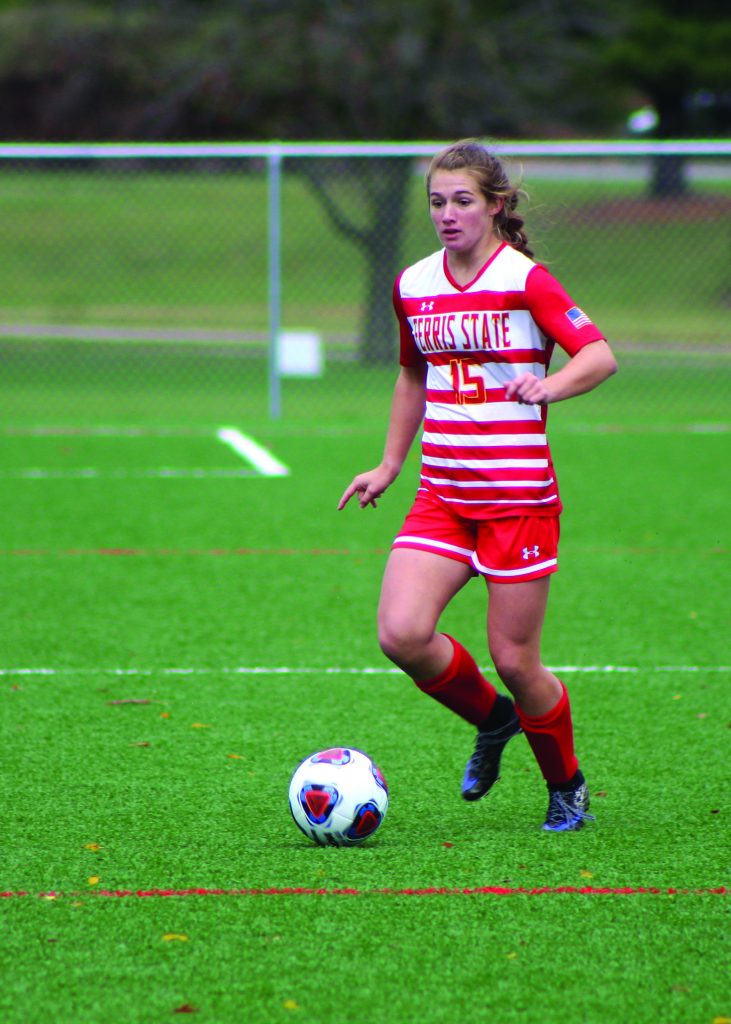 A few weeks ago, the Ferris women's soccer team was struggling to score consistently. However, an offensive serge of 10 goals in three games seemed to put the Bulldogs in a good spot—or so it appeared.
Just when things were looking up for the team following a three-game win streak at the end of September against Madonna University, Northwood and Saginaw Valley State, the Bulldogs dropped two out of three games.
The Bulldogs struggled offensively in their match up against archrival Grand Valley State Oct. 1 where they lost 1-0. The next match up featured offensive firepower in a 5-0 rout of Tiffin University Oct.6, followed by a struggle against Ashland in a 2-1 loss Oct. 8.
The two losses put the Bulldogs' record at 7-6 overall and 3-2 in the conference.
One possible reason for inconsistent play is a lack of experience, as the team features 14 freshmen, many of whom get a significant amount of playing time. Throwing freshmen into the fire of college athletics can always be a tough adjustment. The Bulldogs also only have six seniors out of 35 players.
"This year we are a very young team and one thing we have been struggling with is going into each game with a high level of intensity," Ferris sophomore forward Morgan Irwin said. "We need to work on playing with intensity throughout the whole game and continue to be mentally and physically tough."
Ferris State headed into a big weekend of soccer last weekend against two brand new GLIAC opponents: Davenport and Purdue Northwest.
"I think the biggest thing we need to work on is finishing our chances in front of the net," Ferris junior defender Olivia Brewer said. "We need to keep the ball and play it to feet. When we do that, we are very dangerous."
The Bulldogs' offense flourished against Davenport on Friday, Oct. 13 as they won 4-1. The Bulldogs also dominated Purdue Northwest 4-0 on Sunday, Oct.15.
This improved the Bulldogs' record to 6-2 at home this season.
With the way the Bulldogs played last weekend, they appear to be a contender in the GLIAC tournament if they can stay consistent towards the end of October.
"We have been very competitive with everyone in our league. We just need to find that final drive to score goals and get shut outs," Irwin said.
The Bulldogs currently have three GLIAC games left on their schedule, all of which will be significant for placement in the GLIAC tournament.
The Ferris State women's soccer team currently is 9-6 overall on the season and sit in third place in the GLIAC.
The Bulldogs will next be in action in the Upper Peninsula where they will take on Northern Michigan Friday, Oct. 20 and Michigan Tech Saturday, Oct.22.
Click here for coverage of the Ferris soccer team.