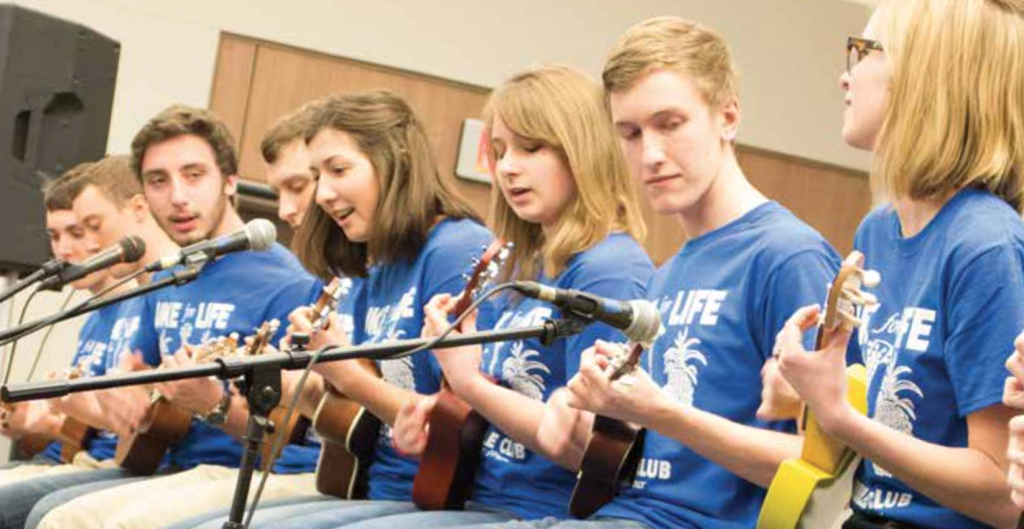 If anyone remembers the Adam Sandler movie "50 First Dates," they'll remember the light sound of a ukulele playing in the background. Luckily, students don't have to rent a movie from Netflix anymore to hear the sounds of this small string-instrument.
From the big screen to Ferris streets, the ukulele continues to play its sweet sound for all to hear thanks to the Ferris ukulele club that is open to new, curious members.
"The only requirement is to bring a ukulele. We are a very relaxed club," Ferris pre-pharmacy junior and one of the presidents of the ukulele club Brandon Buell said.
Focusing on sports in high school, Buell had no musical background and never considered playing an instrument before discovering the ukulele club.
"My suite-mate my freshman year played ukulele and wanted to join the ukulele club but did not want to join by himself. So I went with him and started going to every meeting and fell in love with the club. I am going on my third year with the club," Buell said.
Members have joined the ukulele club for many different and unique reasons.
"I lived in Henderson my freshman year and the whole e-board was on my floor. There were 19 ukuleles on Henderson third floor," said Ferris Dental Hygiene Junior Bailey Harrington.
Much like Buell, it had never crossed Harrington's mind to play ukulele before joining the club.
"I really appreciate how laid back and fun the meetings are after a long day of classes," Harrington said.
Playing ukulele for three years now, Ferris medical laboratory science senior Morgan Zloto was one of the people who helped found the ukulele club.
"My ukulele was a spur of the moment purchase. I had an Amazon gift card burning a hole in my pocket, I ordered my ukulele and within a week I was playing songs," Zloto said.
"I would say the number one reason to join the uke club is that it gives people a chance to relax and learn something new, while hanging out with friends," Ferris accounting senior Dakota Cortez said.
If a student is interested in the club but has little to no musical background, that's no problem. Just like with any new hobby, it's just necessary to practice and have some passion.
"It was a little hard to learn the instrument at first but the ukulele club takes it slow and helps everyone that is struggling. With practice and help from the other members in ukulele club, I was able to learn pretty fast. I still continue to get better every time I practice," Buell said.
The club meets every Wednesday at 7:30 p.m. in the UC 016. The only things required for the meetings are a ukulele and the goal of having a relaxing time with some new friends.