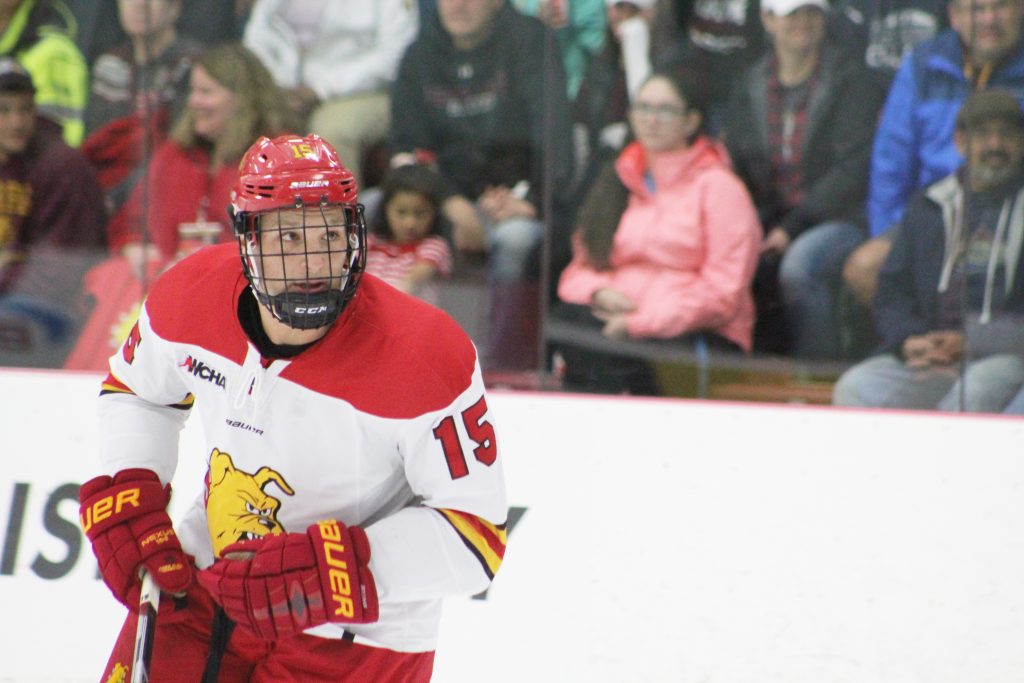 When the clock struck zero in Pennsylvania Friday Oct. 20, it seemed Father Time had once again cheated Ferris hockey.
Senior goalkeeper Darren Smith was guarding the net when a slew of Mercyhurst Lakers took him to the ground and the puck seemed to slip over the goal line with under five seconds remaining.
The officials reviewed the play and Ferris escaped the first of two games against Mercyhurst this weekend with a 3-2 victory.
After a slow start in the first period where the Bulldogs had a difficult time clearing the zone without being called for icing. It didn't appear to get any better for the Bulldogs when the Lakers' Matthew Whittaker found the net 7:33 into the first period.
But the offense for the Bulldogs came alive in the second half of the first, as senior forward Mitch Maloney netted a power-play goal. Sophomore forward Dominic Lutz followed up with a goal of his own to close out the first period.
The Bulldogs were sitting pretty with a 2-1 lead when Patrick Piacentini came back to even things up 2-2 less than two minutes into the second period.
Lutz was the savior for the Dawgs as he scored what would stand as the game winner just four minutes after Mercyhurst's goal.
While there was some worry on how the offense would fare without centerpiece in junior forward Corey Mackin, young players like Lutz give the Ferris hockey program hope for the future.
The Bulldogs now stand at 2-3 overall and have a chance to complete their first sweep of the season Saturday Oct. 21 in Pennsylvania.