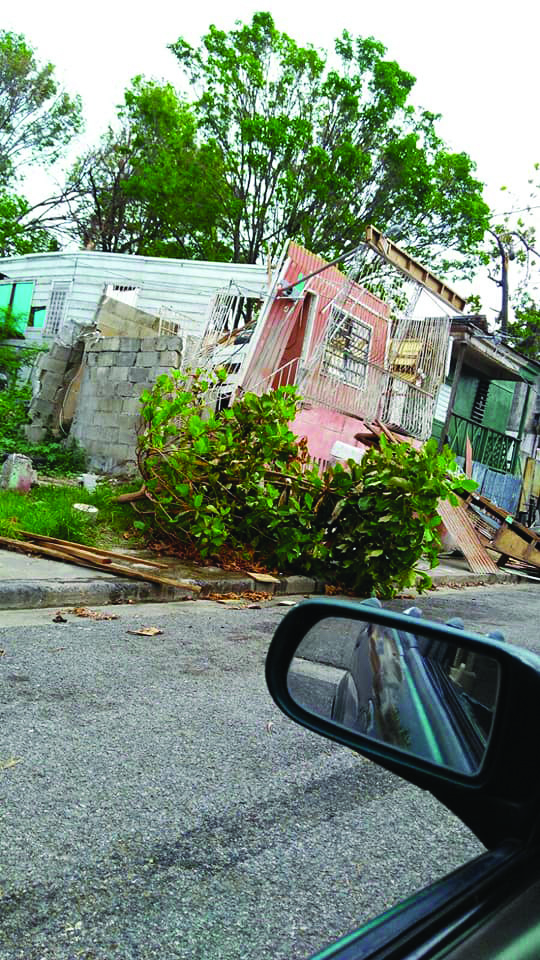 September was a month of tragedy as lives were turned upside down throughout Puerto Rico when hurricanes Irma and Maria swept the island.
Ferris Social and Behavioral Sciences Department secretary Janitza Sawyer's family was impacted by Hurricane Maria, as she learned when her sister, Stephanie Ocasio, called her.
"Hearing in Stephanie's trembling voice, recounting the storm and the condition of her house shook me to my core," Sawyer said. "My first instinct was to buy a plane ticket to rush to her side but at the time, it was nearly impossible to fly into the island."
Though she currently lives in Bitely, Sawyer was raised in Ponce, Puerto Rico. Because of this, she always follows news reports and calls her family for updates during hurricane season. When she received the call that her sister's house was damaged in the hurricane, Sawyer was ready to help in any way she could.
"While beginning to plan a fundraiser for her, Dr. Johnson approached me with her fundraising idea and I was immediately on board," Sawyer said.
Ferris geography professor Jennifer Johnson and groups of her students began fundraisers for people who were affected by hurricanes in Puerto Rico. One of these fundraising groups was called Bulldog Love for Puerto Rico.
"I created the fundraising project as an optional assignment. It requires students to translate what they've learned about the hurricanes in Puerto Rico into positive action. Students are not required to participate but the value of the assignment is determined by a sliding scale based on how much money they raise," Johnson said.
Partnering with the Ferris Social Work Association, Bulldog Love for Puerto Rico has a fundraising goal of $1,000 in hopes of helping Sawyer's family, as well as another faculty member from Dominica who had loved ones caught in the tragedy.
Ferris graphic media management fifth year Katie Inman was saddened by the stories of local faculty members.
"Both stories were hard to hear but the hardest one was about the two little girls who basically lost two sets of parents. I can't imagine. I've been blessed in that sense and it's awful to think of what they must be going through," Inman said.
Donation jars and drop-offs can be located in the Department of Social and Behavioral Sciences in ASC 2108, The Sawmill Saloon and Cranker's.
"Turn in your pop cans. Collect the change between your couch cushions. Hold a yard sale and donate the proceeds. Every cent helps," Sawyer said.
Donations of any amount are encouraged.
"Help out if you can. I know we're all broke but reach out to your parents, grandparents, aunts and uncles. Donate blood, collect food and water and have it shipped down," Inman said. "Even if you can't get it to Puerto Rico, Florida and Texas are a long way away from being back to normal," Inman said.
Fundraising was set to end Thursday, Oct. 27. However, due to technical problems with the website, the deadline may be extended.
"Bulldogs have fierce hearts capable of showing a lot of love. Puerto Rico needs a bit of that Bulldog love right now," Johnson said.
Students who want to donate or help spread the word can visit youcaring.com/familiesofjanitzasawyeranddaisyhenderson.