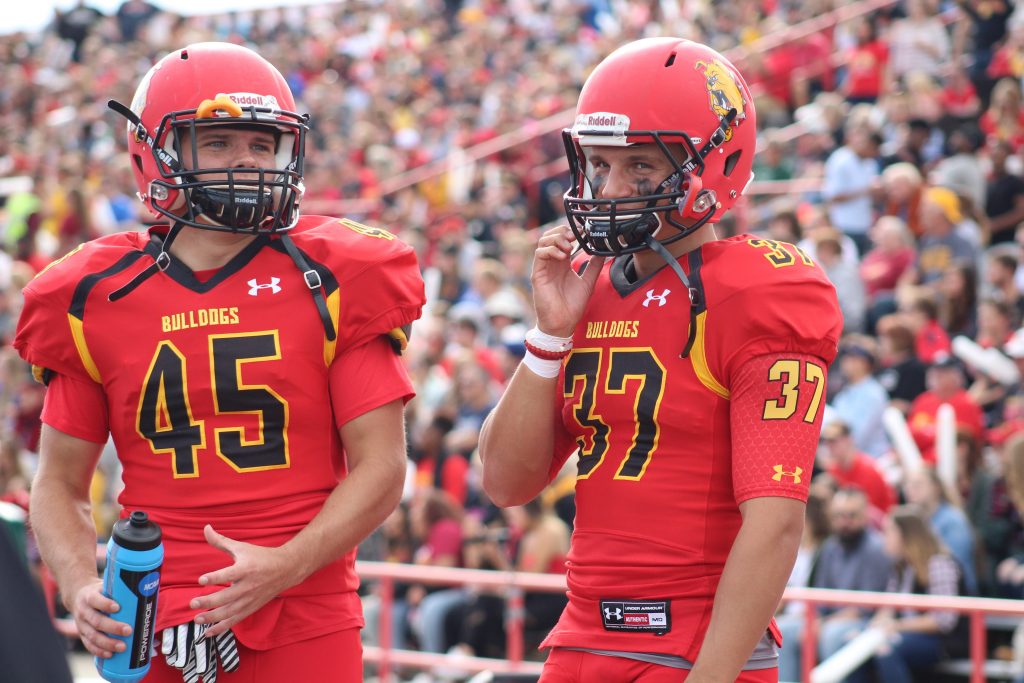 In a new twist, Top Dawg will not be given to a single player but a group of players that really made a difference on the turf this weekend.
The special team play of Ferris football made the game in a nail-biting 28-27 victory over rival Grand Valley State.
This group of players features some of the most consistent performers week-in and week-out but none more consistent than senior kicker Wyatt Ford.
In the first half of the Bulldogs' Saturday, Oct. 21 victory, the team looked to be in trouble as the offense failed to find the end zone once. Often, Ford was kept on the sideline as the offense was kept on the field on multiple fourth down situations.
The veteran kicker did trot onto the field to nail a 27- yard field goal and the Bulldogs entered halftime staring at an 11-point deficit.
Then Ford came out again in the second half, knocked through a 25-yard field goal and tacked on an extra point to bring the game to within one point.
After a few back and forth drives that found both teams in the end zone, the Bulldogs were faced with their toughest position all year. The Lakers tacked on a late touchdown with only two minutes remaining and lined up to attempt the extra point.
That's when the special team unit really made their mark.
As the ball was snapped, multiple Bulldogs dove at the kicker's legs and scared him into kicking a line-drive ball towards the uprights. At that moment, junior behemoth Zach Sieler stuck his hands up and sent the ball flying, allowing the Lakers to come away with just six points.
After a heavy dose of senior Reggie Bell on the Bulldogs' final drive, the Ferris football team found themselves tied at 27 with around 20 seconds remaining on the clock. Ford came out, stared down the Lakers and knocked through the kill shot that would stand as the highlight of the game.
Click here to catch up with last week's Top Dawg.