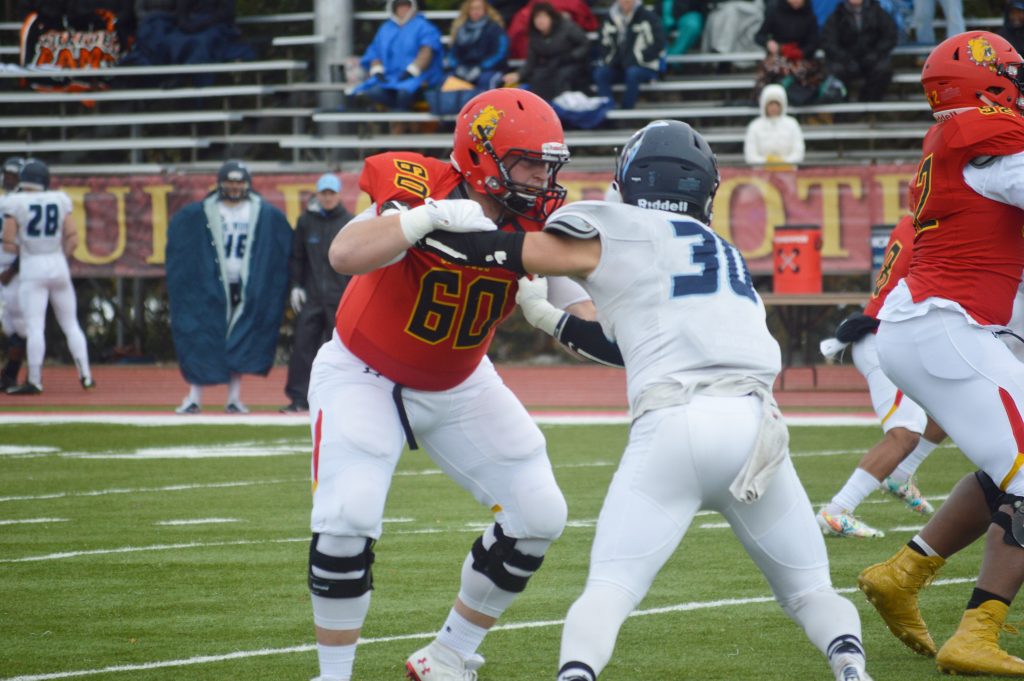 Click here for a full photo gallery from the game.
Ferris State improved to 7-1 on the season when they beat Northwood University 24-14 on senior day at Top Taggart Field Saturday.
The Bulldogs have now won five straight games after falling on the road against Ashland in a nationally televised game way back on Sept. 23, 20-3. Though Ferris controlled most of the game, Northwood did not go down without a fight, scoring all 14 of their points in the final minutes of Saturday's game to make things interesting.
The Bulldogs didn't take long to open the scoring on the day as quarterback Reggie Bell found receiver Taylor in the end zone from 30 yards out on fourth down and 16 just 3:43 into the ball game to put Ferris up 7-0.
The Bulldogs found the end zone again 2:31 into the second quarter when Davonte Harrington took one on the ground from 15-yards out that put Ferris up 14-0. Both defenses stood tall the rest of the way and Ferris took the 14-point lead to halftime.
Both teams traded defensive shots until Ferris opened up the second half scoring in the fourth quarter when Wyatt Ford hit 35-yard field goal to put the Bulldogs on top 17-0 with just 7:34 to play.
Though Northwood had been held scoreless all game, the Timberwolves started their comeback effort just 1:52 later when Travis Vuich caught a 34-yard touchdown pass from quarterback Joe Garbarino to cap off a 8 play, 61 yard drive that cut the Ferris lead to 17-7.
Ferris State would add to their lead just 2:39 later though when Jevon Shaw capped off a 6 play, 80-yard drive when he ran one in to the end zone from 2 yards out to put the Bulldogs up 24-7. Northwood answered right back just 19 seconds later as Vashon Nutt caught a 64-yard touchdown pass from Garbarino to cut the Ferris lead back to ten, 24-14.
Northwood then recovered an onside kick but their drive was stopped when Tavierre Thomas caught an interception to seal the victory for the Bulldogs.
Jahaan Brown led the Bulldogs ground attack with 128 yards on just 12 carries while Taylor once again hit the century mark as he brought down six catches for 106 yards and a touchdown. The Bulldogs outgained the Timberwolves by 163 yards as Ferris racked up 449 yards of total offense.
The Bulldogs victory came on a day where 24 seniors on the team were honored for the annual senior day game. The Bulldogs are on the road for the last two weeks of the season, starting next weekend when they travel to Davenport to take on the GLIAC's newest member at 12 p.m. Saturday, Nov. 4.