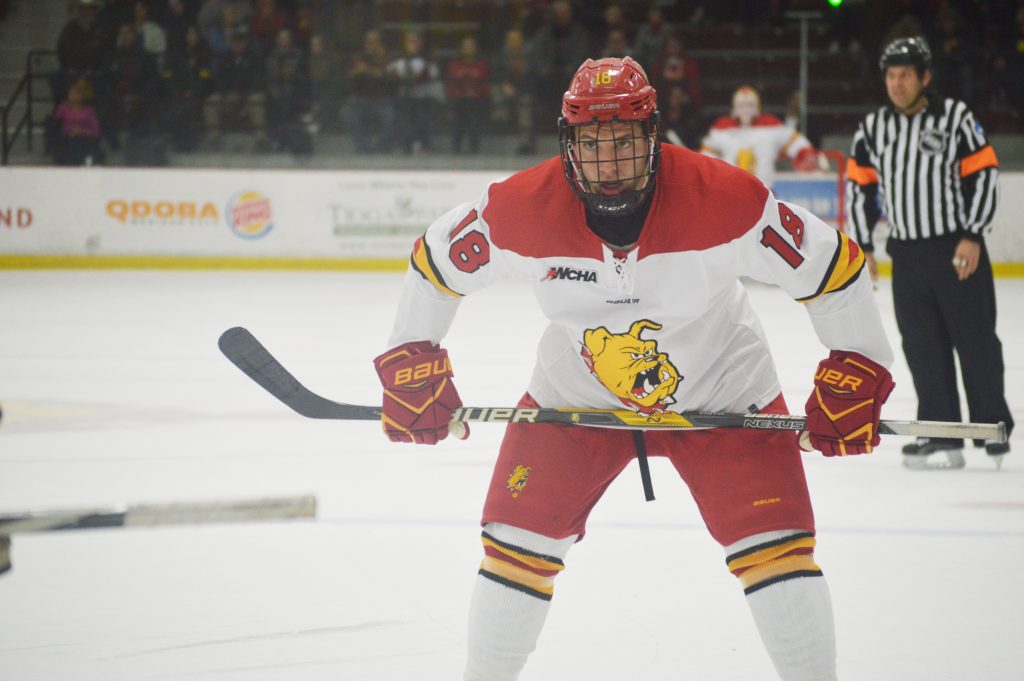 The Bulldogs are now winless in their last three games after falling on the road against Bemidji State Saturday night, 3-0.
After picking up their first point in the WCHA (Western Collegiate Hockey Association) standings of the year Friday night with a tie the Bulldogs failed to pick up anymore Saturday as Ferris was shut out for the second time of the season.
The game went late into the second period scoreless before Bemidji State got on the board thanks to Dan Billet's first of the year. The Beavers took the 1-0 lead into the third period where Myles Fitzgerald would add two more goals for the Beavers.
Fitzgerald put the Beavers up 2-0 with a powerplay goal just 1:38 into the final frame and added some insurance later in the period when he tallied his second of the night to give Bemidji a 3-0 lead with just 4:08 to go in the game.
The Bulldogs were outshot in the game 38-19 and failed to convert on four powerplay opportunities while the struggling penalty kill was only able to kill of four out of the five Bulldog penalties.
After leading the team last year, goaltender Justin Kapelmaster is winless to start this season through the first four games. He went down and was slow to get up in the second period but stayed in the game for the Bulldogs and finished the night with 35 saves.
With the loss, Ferris has dropped to 2-5-1 on the season. They only have one point through four conference games and sit in ninth place in the conference standings. The Bulldogs have struggled finding the back of the net as they have only scored 12 times through the first eight games.
The Bulldogs return to action next weekend when they travel to Ann Arbor to face off against the Michigan Wolverines both Friday, Nov. 2 and Saturday, Nov. 3. Both games are set for a 7:30 p.m. faceoff.