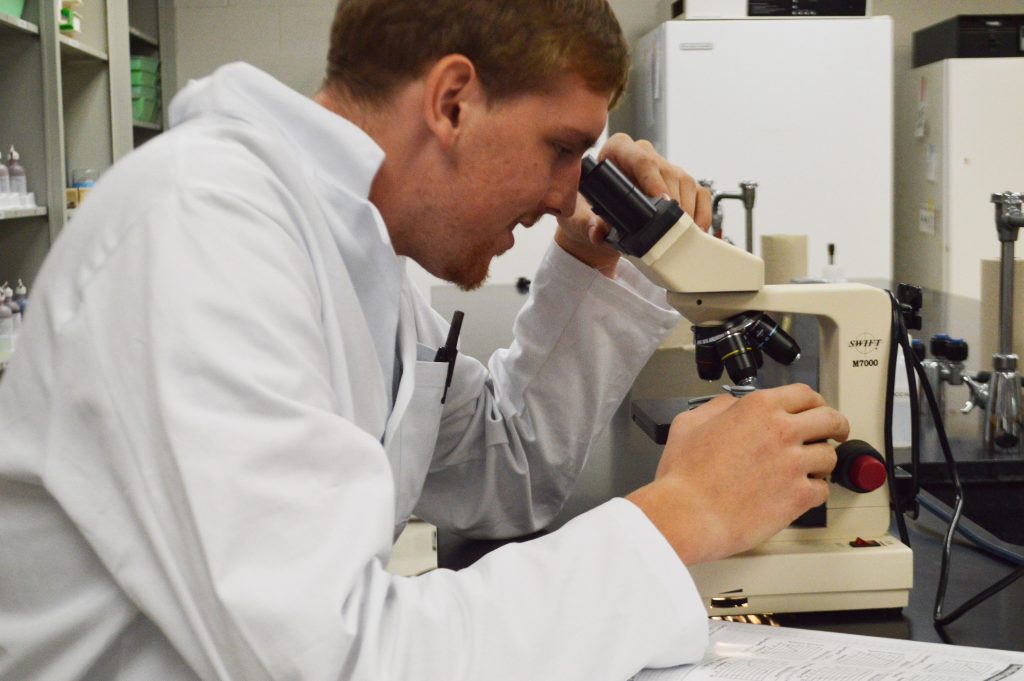 The Ferris Microbiology Club is combining art and science into an unlikely but interesting relationship.
"Who knew something so small could have such an impact on the environment and in a clinical setting?" Ferris medical laboratory science junior Abbey Hilden said. "I don't think anyone will ever know enough about microbiology. The subject is constantly evolving and changing, which is absolutely fascinating to me."
Approved in April this year, the Microbiology Club has 15 members who typically spend meetings discussing potential events and ideas for the club. They are currently trying to raise funds for the Agar Art Contest, put on by the American Society of Microbiology (ASM).
"Agar Art is a really interesting way to be creative and have fun in the laboratory. Using bacteria to make art sounds odd or nerdy but having a creative outlet for something you enjoy learning about is a good way to express yourself," Hilden said. "Microbiology is a subject not many students encounter and the contest is a great opportunity to represent the university."
The Agar Art Contest consists of using bacteria to make art. In order for the club to participate, they must be registered with ASM and then submit their design. Other activities have included a bake sale and a fundraiser at Buffalo Wild Wings. They plan on fundraising at other restaurants in town as well.
"My favorite aspect of the club so far is getting to know the other people and seeing everything coming together. We are just getting it off the ground so there is a lot of things we need to line up still," Ferris molecular diagnostics junior Austin Vangessel said.
Originally a nursing major, Vangessel has been a part of the club since the start up last spring.
"I took medical microbio my first year here. It's actually the class that made me change my major," Vangessel said.
Like Vangessel, Ferris biotechnology sophomore Brennah Wassie came to Ferris with other goals in mind, only to discover microbiology was her passion.
"I actually entered college as a pre-pharmacy major. But I attended a Pharm Club meeting and a professor was giving a talk and said that if we wanted to be the ones talking to and advising patients, then pharmacy was the way to go. He also said that if we wanted to be in the lab, behind the scenes, that pharmacy probably wasn't the right track. I switched majors and have never regretted it," Wassie said.
Wassie is interested in medicine and looking to enter a field in biomedical engineering or genetics. Her current major was appealing because it provided technical lab skills and knowledge that newly graduated students would need to immediately enter a biotechnology industry and excel. She is also looking at pursuing a higher degree in genetics research.
"I'm very interested in antibiotic resistance and what is currently being researched on how to stop it," Wassie said. "Also, vaccinations and immunizations are a major problem in our communities when people stop believing in science and start believing in non-scientific opinions. I want to see our microbiology club educating our community about these things and hopefully encourage people to take personal steps to reduce them."
The Microbiology Club meets at 11 a.m. the second Thursday of every month in Starr 129.
Click here for more lifestyles stories.