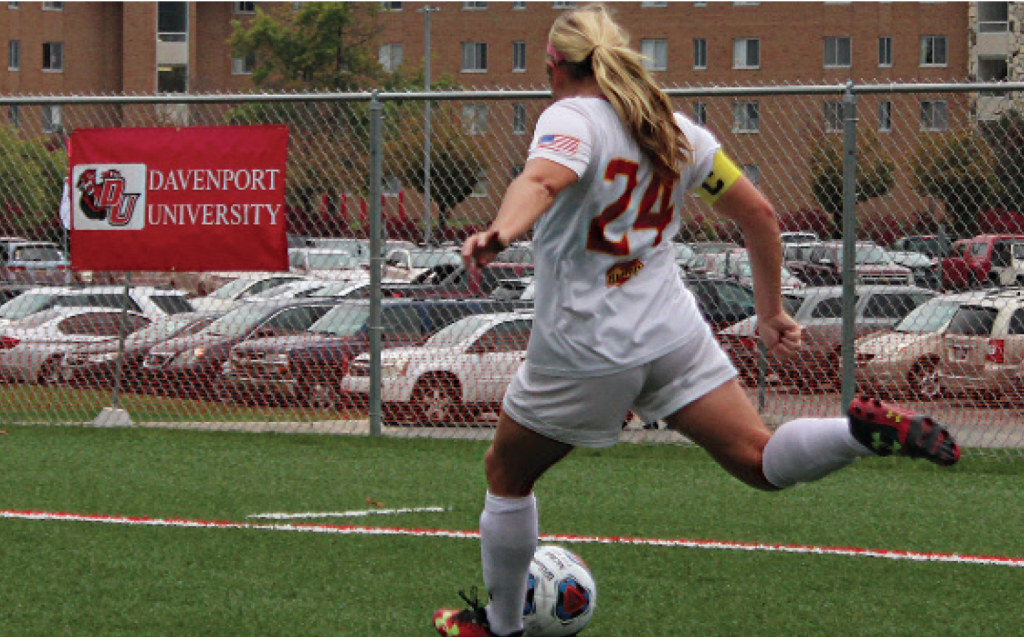 After a big win against rival Grand Valley State University (GVSU), the Ferris State women's soccer team is riding a wave of momentum into the GLIAC Tournament.
The women shut the Lakers out on Friday, Oct. 27 with a score of 1-0 after Ferris sophomore defender Tia VanSchuilichem found the net on an assist from sophomore midfielder Jenna Hong.
VanSchuilichem said that after taking down GVSU, she and the rest of the Dawgs are focused on making a real run in the GLIAC Tourney.
"Last year, we got knocked out of tournament in the first round," VanSchuilichem said. "I think that if we have a solid win against Saginaw Valley, our confidence will be set for the rest of the tournament."
Sixth seed Saginaw Valley is the first of three teams that the third seed Bulldogs will have to topple in order to call themselves GLIAC Tournament Champions.
VanSchuilichem said that she expects to see a different side of her team come out at playoff time—a side that encourages big pressure situations.
"It's fun to be a part of a team that rises to the occasion," VanSchuilichem said. "I'm hoping that we can compete and give it our all for the finals."
Ferris junior defender Carley Dubbert, who leads the Bulldogs with nine goals so far on the season, said that she knows Saginaw Valley will be riding a wave of momentum just as the Dawgs are.
"They upset Ashland last weekend so they are feeling confident and playing well," Dubbert said. "I'm excited about our first-round game being home and being able to play where we practice each day."
The Bulldogs had to make the trip to Michigan Tech in 2016 for their first-round matchup, falling 2-1 to the Huskies. Dubbert is also aware of the fact that winning in the playoffs is a team effort, which is why the younger Dawgs will have to be ready.
"It will be really important for the freshmen to be involved in these playoff games. You have to win to move on, so the pressure will be high," Dubbert said. "Each game now has elimination on the line, so we need to go out with determination and passion to get the job done."
If they are able to get by Saginaw Valley, the Bulldogs will likely be taking on other high-ranked GLIAC teams such as GVSU, Ashland and Tiffin. No matter the opponent, senior midfielder Hilerie Schatzle said that the Dawgs' main goal is to perform well and be the first Bulldog team to make it to the National Collegiate Athletic Association (NCAA) Tournament.
"I don't think any of my teammates or I would be here if we were not all in and wanted to make the Ferris name known to the other teams," Schatzle said. "I truly believe in this team and think we are stronger than ever. I know I speak for the senior class when I say we will be playing our hearts out these last couple of games."
The Bulldogs are set to take on Saginaw Valley in Big Rapids Tuesday, Oct. 31 for a Halloween playoff match that Ferris hopes will end in a scare for the Cardinals.
Click here for more coverage of the Ferris soccer team.