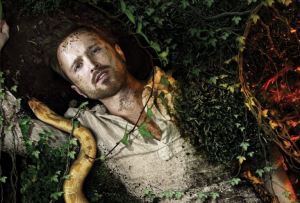 Imagine a world without suffering.
A world where humankind aims to heal rather than hurt one another.
However, in order to achieve this enlightenment, one must take up a religion called Meyerism. In Meyerism, if you interact with non-believers or ignorants, you run the risk of not making it into the Garden of Meyer.
They say it's not a cult.
But what if it is? And everything that you were led to believe was false?
This is "The Path," an original Hulu show that follows Aaron Paul of "Breaking Bad," Hugh Dancy of "Hannibal" and Michelle Monaghan of "Pixels" as they navigate their lives as Meyerism followers.
While the show does follow a cult-like aspect, it explores typical struggles someone might go through, reminding us that while we may be different, certain aspects of our lives remain the same.
Paul, who plays the lead character Eddie Lane, finds himself re-evaluating his beliefs upon discovering a hidden truth while away on a religious mission.
Lane's own son is in a grace period where he will either accept the religion into his life and become a devout Meyerism follower or listen to his peers at school and step away from the religion.
While this show may not be for some, the inside look at watching families handle the outside world with their strange beliefs is interesting.
This can easily be a struggle among many people across the world, whether it is their religious beliefs or preferred partner.
Many Americans can become outcasts because of who they love, what they believe and even what they look like.
Throughout history we have seen clashes where others were judged because they weren't understood, which we continue to see to this day.
We all have different issues and we think that other people have no idea what we're going through.
Fans of shows such as "The Handmaid's Tale" will find themselves easily sucked into the lives of Lane and his son as they uncover the dangers of the Garden of Meyer and the struggles that come with choosing family over beliefs.
Take a minute to read more Media Minutes by clicking here.