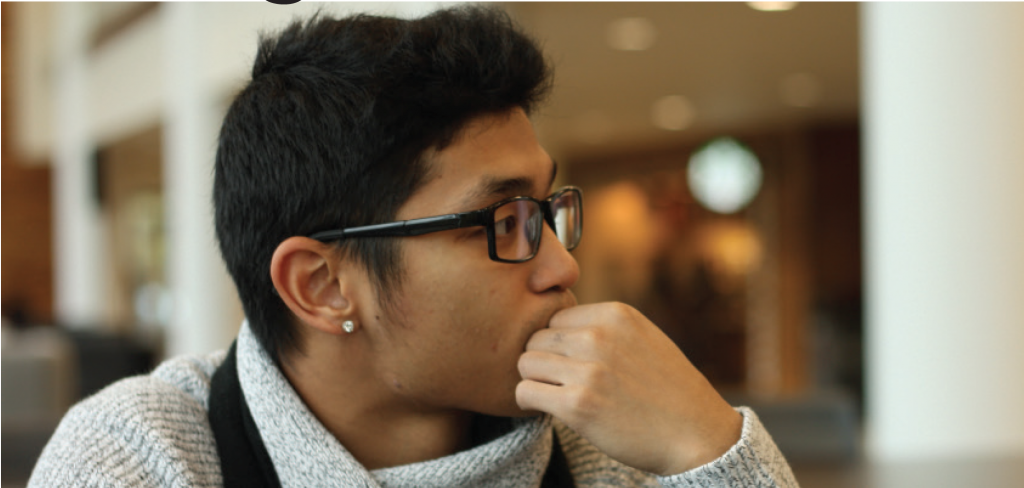 As the temperatures drop and cozy becomes the state of mind, fashionistas on campus change the flair of their clothing as they are inspired by the changing colors of the season.
"I'm just following the usual fall trends this year: deep colors, dark lipstick and high top All Stars with leggings and long socks," Ferris criminal justice sophomore Abby Marshall said.
Marshall looks forward to wearing thick sweaters and deeper colors this time of year. Her traditional fall makeup style is winged eyeliner and dark lipstick.
"I definitely won't be trying any of the new fall makeup trends this year. Some of the new makeup trends are too wild for my style," Marshall said.
Some of these styles include floating eyeliner, smoky eyeshadow with a pop of electric red and of course, bedazzled nails.
Though Marshall doesn't have any specific inspiration for her fall fashion, her fashion pet peeves include UGG boots, high-low tops and pointed shoes.
When in doubt of what to wear before heading to that 9 a.m. class, comfy and casual is the way to go.
"I really enjoy beanies and flannels. Those are always my go to when it becomes colder outside. Cozy and comfortable is my forte," Ferris music industry management sophomore Taylor Funari said.
Funari's makeup for the season includes warmer tones such as gold on her eyes and darker lip colors, while her outfits hold a little edge against the crisp fall wind.
"I usually will wear some sort of leather jacket over a dress with some boots or heels to get dressed up in the fall months. Or some nice jeans with a leather jacket. Leather is always a good accessory," Funari said.
While it is important to try new styles to see what works, these fashionistas have found their staple pieces in their closets during this time of year.
"I usually look forward to wearing sweaters and flannels every year," Ferris music industry management sophomore Elizabeth Kerr said.
Kerr is excited to try the crushed velvet trend that's becoming very popular lately. She usually gets inspiration for her outfits and trends to try from Pinterest and Instagram.
When she shops, Kerr tries to find simple T-shirts or pieces that would work in multiple seasons.
"I look forward to wearing UGG boots, scarves and comfy sweaters," Ferris pre-nursing freshman Ashley Denton said.
Denton plans on trying the oversized sweater trend this fall. However, she doesn't plan on wearing vests, another big trend, because she insists that they don't look good and that they aren't very practical.
"For makeup trends I'll be using warm, fall colors, like oranges, reds and browns for eyeshadow. I will be using warmer toned colors for highlighter as well. Nude lip colors will be fun too," Denton said.
Though some aren't fond of change, let alone the changing season, Denton is excited to experiment with new trends this season.
"I'm excited to be wearing funky scarves and hats this season," Ferris social work freshman Jordan Brumwell said.
"I've noticed that the old patterned floral—like the designs you would find on your grandmother's couch—has been making a comeback so I'd like to give that trend a try," Ferris early childhood education sophomore Kayla Barwick said.
Even though she is feeling adventurous this season, Barwick looks forward to being able to wear sweaters again as well as plaid shirts and boots.
This fall is filled with new trends but the goal of fashion stays the same: stay cozy and make a statement.
Click here for more from the Lifestyles section.