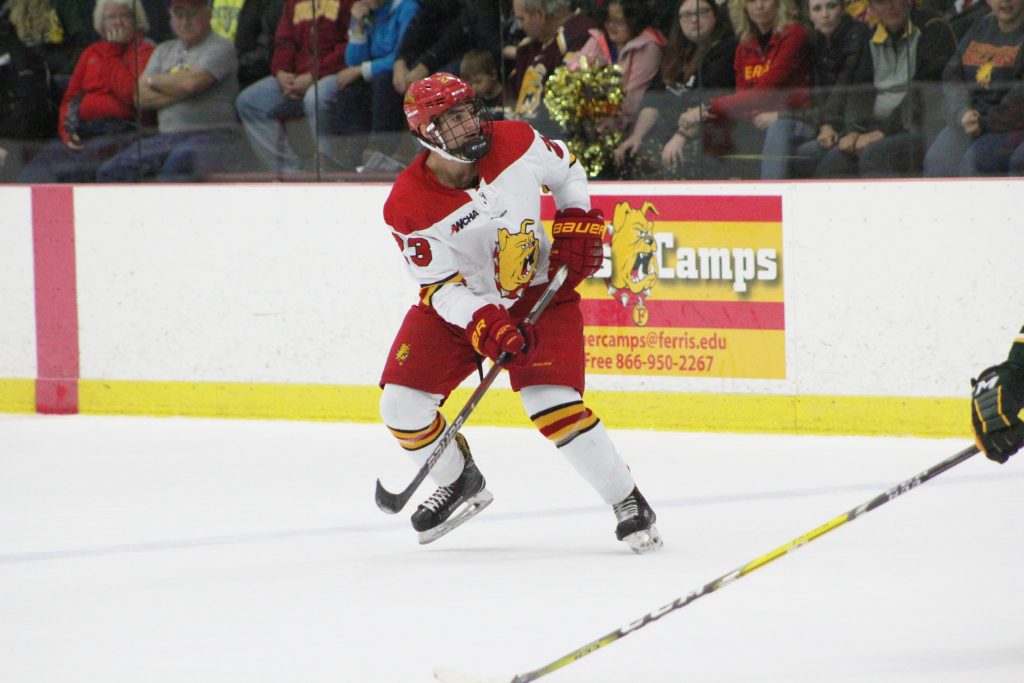 The penalty box is not a Bulldog's best friend.
The Ferris State men's hockey team found that out when they fell to the University of Michigan Wolverines 7-2 Thursday Nov. 2.
As has been the story this year, the Bulldogs struggled staying out of the penalty box early in the game, allowing the Wolverines to capitalize on multiple power-play opportunities. In fact, the first two goals of the game for the maize and blue were a result of Ferris' lack of ability on the penalty kill.
Ferris senior Mitch Maloney gave a glimpse of hope when he managed to put in a power-play goal of his own, but the Wolverines would not be silenced.
Michigan and Ferris would trade goals once again as Bulldog freshman Lucas Finner cut the score to 3-2 early in the second on his first collegiate goal.
From then on it was all Wolverines as they scored four unanswered goals in the third period to close out the night.
The last 10 minutes of the night seemed to see the Bulldogs lose their willpower and their play reflected that, allowing several goals on sloppy turnovers and deflections in front of the goal.
While the final score screams blowout, the Bulldogs played well in the first two and a half periods when both teams had five men on the ice. If they can continue that and find a way to be effective on the penalty kill, this team should be able to win some games.
After the loss, the Bulldogs sit at 2-6-1 overall. While the game doesn't have strong implications on their WCHA ranking, Ferris would do well to get in a groove to improve on their 0-3-1 conference record that has them sitting in eighth place.
The Dawgs will look to split their weekend with the Wolverines when they continue play in Ann Arbor Friday, Nov. 3 with puck drop coming at 7:30p.m.