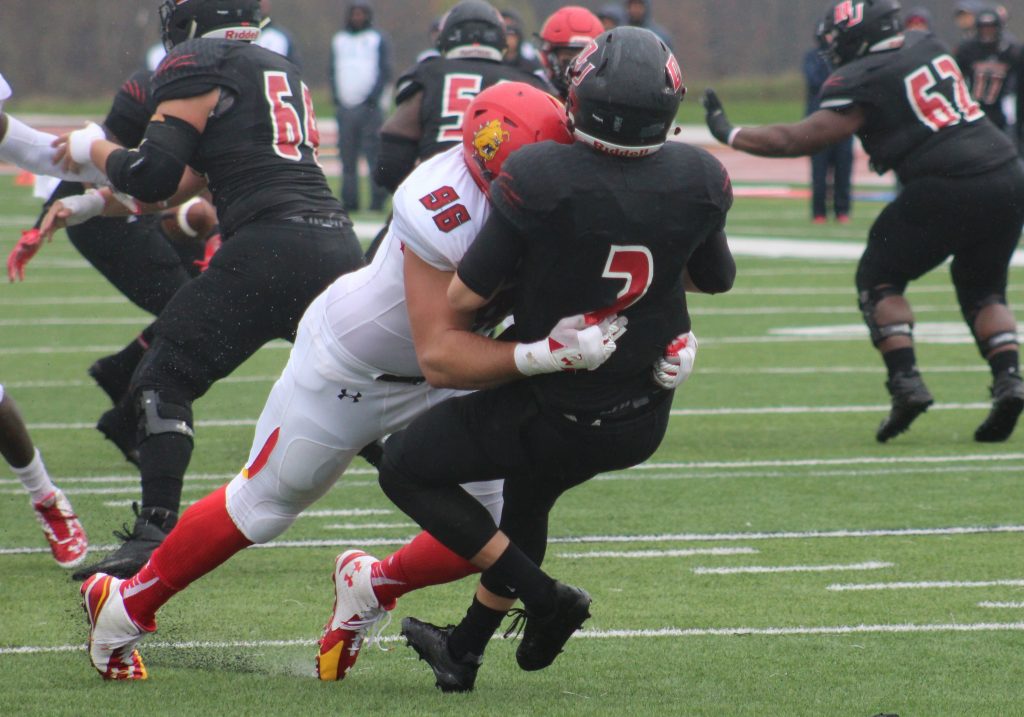 Click here for more photos from the game.
While the jury is still out on whether defense really wins championships, it certainly played a big part when the Bulldog football team took on Davenport.
Ferris kept the Panthers' offense at bay, completing the 26-0 shutout on Saturday, Nov. 4. Junior defensive lineman Zach Sieler really showed up, leading his team in tackles with 10 and tackles for loss with 2.5.
The final score may not reflect it, but the Bulldogs and Panthers were only separated by three minutes in time of possession. The defense forced Davenport to punt on 10 of their possessions and held the Panthers to an abysmal 2/16 on third down plays.
On the offensive end for the Dawgs, sophomore quarterback Travis Russell led the way, gaining 121 yards on the ground and adding a touchdown. Russell also threw for 103 yards and a touchdown.
The young signal caller led the way for the Bulldogs in the game, as senior quarterback Reggie Bell saw limited snaps after leaving the game early with an apparent injury.
The Bulldogs improve to 8-1 on the season with only one regular season game remaining. Ferris has their eyes set on the NCAA Div. 2 Playoffs, as they are currently sitting with the second seed.
The Dawgs are only one game back from the one-seeded Ashland Eagles, the only team to have handed Ferris a loss this season.
Ferris will head up north to take on the Michigan Tech Huskies Saturday, Nov. 11, at noon.