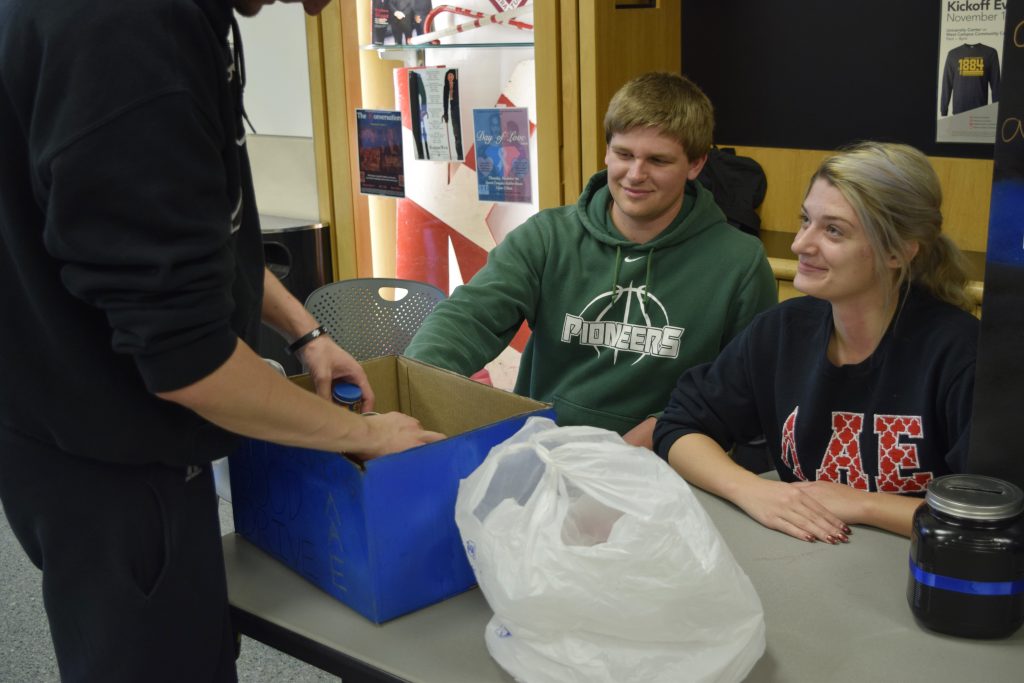 There are many things that come to mind when people think of Thanksgiving.
"When I think of Thanksgiving, I think of watching the Lions play and eating way too much," Ferris general studies freshman Mike Harrington said.
Other than watching his favorite sporting event and the food, Harrington has donated to a food bank in the past and has helped out at a well-known food bank in Detroit called Gleaners.
"I enjoy having ham and turkey every year. Honestly, I look forward to eating anything my aunt makes," Ferris manufacturing engineering sophomore Riley Scott said.
Scott has also donated to a food bank that was run by The Salvation Army.
Like these students, Lambda Alpha Epsilon is looking to leave a positive impact on the Big Rapids community this Thanksgiving season by hosting a food drive.
"We chose the Manna Pantry because they are a well-established pantry that is very local and we felt that people could really benefit from using them as a resource," Ferris criminal justice sophomore and head of philanthropy for Lambda Alpha Epsilon Landry Shorkey said. "The New Journey Clubhouse provides aid to people with mental health and substance abuse issues that need help getting back on their feet. This really hits home for us as students of criminal justice because many of us will likely be working with people struggling with these issues throughout our careers. The opportunity to give them aid is truly meaningful."
This is the first year that Lambda Alpha Epsilon is hosting a food drive and giving back to the community is extremely important for both the pantry and Lambda Alpha Epsilon members.
"LAE gets a lot of support from the people and businesses of Big Rapids. We thought having a food drive at the beginning of the holiday season could be our way of giving back to those around us," Ferris criminal justice junior Paige Fischer said.
Fischer has been a part of the fraternity for three years. She joined the group because everybody there has similar career goals.
The group is looking to host more community events to gain a presence not only on campus but in Big Rapids and the surrounding area as well.
"Criminal justice as a field revolves around community interactions. Placing ourselves in the public eye and demonstrating leadership and service is a fundamental aspect of being in a professional criminal justice organization," Ferris criminal justice junior Christian Bomer said.
Bomer's role in the food drive is to help run the collection tables and assist the philanthropy committee. There is an annual event that the fraternity does every year to honor those in their field.
"One of the biggest things that we do in the community is a fallen officer 5k, proceeds of which go directly to the Jessica Nagle scholarship fund. Jessica is a former LAE president and was tragically killed in the line of duty serving her community as a police officer. This race is held every spring and gets larger every year. We are beyond humbled and honored to put on this event," Bomer said.
The food drive will run from Nov. 6 through Nov. 20.
Food Drive: Days and places to donate
November 6, 2-4 p.m., UC atrium
November 7, 2-4 p.m., UC history lounge
November 9, 2-4 p.m., UC history lounge
November 13, 2-4 p.m., IRC Connector
November 14, 2-4 p.m., IRC Connector
November 16, 2-4 p.m., IRC Connector
November 20, 2-6 p.m., FLITE lobby
Click here for more from the Torch's lifestyles section.