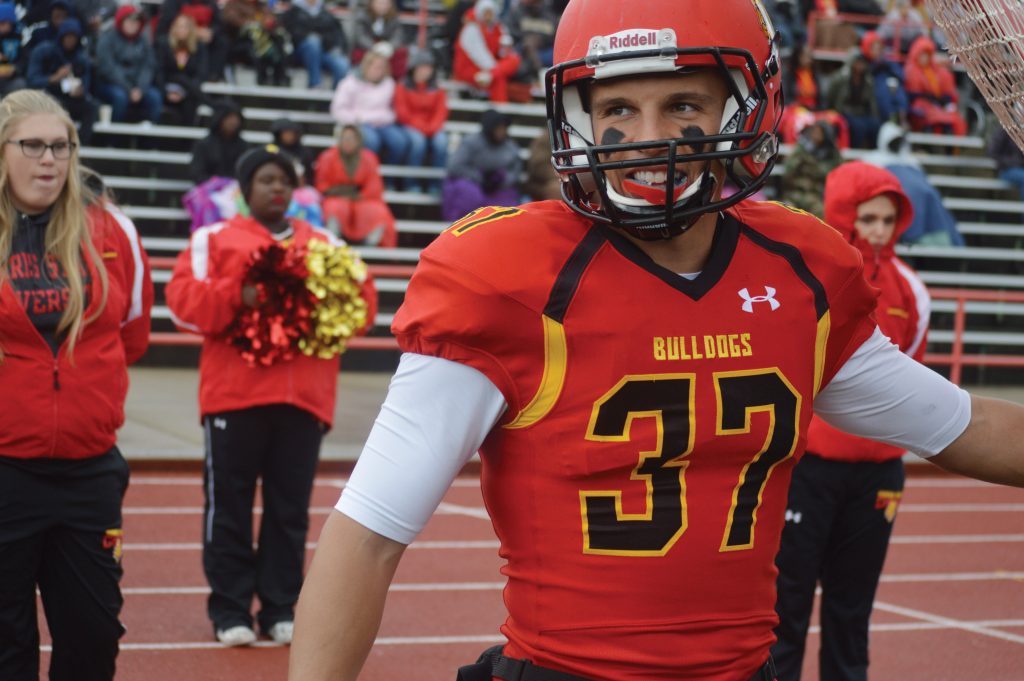 Senior Wyatt Ford may be one of the best kickers in college football but he may also be one of the best dancers as well.
The 5-foot 9-inch, 188 pound kicker from Montague may now be known for sending Ferris to a win over Grand Valley State University (GVSU) on national television when he kicked what is probably the biggest extra-point in Ferris history to put the Bulldogs ahead 28-27 late. But it's his personality in the locker room and on the field that is going to be remembered most by his teammates.
"He's always walking around doing his Snapchat stories," defensive lineman Zach Sieler said. "He definitely knows when to cheer the team up. It helps lighten the mood."
In the most stressful of situations during Ferris football games, you can usually spot out no. 37 on the sidelines, practicing his dance moves or getting his teammates ready for battle. Though a lot of it is spontaneous, Ford puts in a little extra hard work throughout the week to be ready for gameday.
"Throughout the week, I'm not going to lie, I look up some dance moves and different things and think: 'I'm going to try that.' But for the most part, I just wing it and try not to embarrass myself out there," Ford said.
Although it may look silly to some, Ford has backed up the off-field shenanigans with a multitude of on-field success. Whether it be the extra point against GVSU earlier in the season or the 36-yard field goal in the dying seconds of a 30-28 win at Michigan Tech last Sept., Ford has shown up in key moments for the Bulldogs.
"You just try to block out everything else and just focus on what you've been taught so when you go out there. It's just is muscle memory and second-hand nature," Ford said.
Ford is continuing his great success in his final season with the Bulldogs this year as he has accounted for 62 of the team's points. Ford is nine for 12 on field goals with a 42-yarder as a season long, while kicking through all 35 of his extra point attempts this year for a perfect 100 percent rating.
Ford now hopes that the team can continue its successful season while advancing further than last year in hopes of winning a national title. If Ford is called on to kick another big one come playoff time, you know he will be ready like he always has. As for his dancing?
"I'd give him a hard seven," Sieler said.
Click here for more coverage of the Ferris football team.