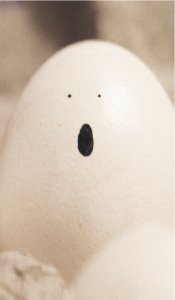 As the season of giving is among us, it's time to think about ways to help fellow Bulldogs as well as helping the Big Rapids community.
Ferris business senior and Sigma Phi Epsilon brother Martin Nelson created Sigeps Promoting Eggcellence—an event that is a first for this fraternity.
"We're charging $2 per egg and you have the opportunity to throw an egg at this guy in a hot dog suit," Nelson said.
Promoting Eggcellence was created to help the fraternity with day-to-day finances as well as bigger events in their future.
"I think the majority of it that we obtain that doesn't go to Nationals is going to go to more community service this year," Nelson said.
Some of the community service involves helping the community by creating decks for residents, raking leaves, mowing lawns and shoveling driveways once snow decides to blanket Big Rapids.
In his ninth semester in the fraternity, Ferris criminal justice senior Eric Giacobone has volunteered to take part in the fundraiser and is excited and nervous to see how the event goes.
"Eggcellence entails me dressing up in a hot dog costume and we will charge people to launch eggs at me," Giacobone said. "No worries though, I'll be wearing a hockey helmet and some eye protection for safety purposes."
Though the idea is new, Giacobone has had the hot dog costume since his older brother gave it to him when he graduated Ferris. The costume has been a tradition for Giacobone to wear a few times a year.
"I'm a tad nervous to get hit because well, I've never been egged before. But I think it will be a fun event. It'll be interesting to see how it feels getting hit for hours with eggs," Giacobone said.
Sigeps Promoting Eggcellence will take place Thursday, Nov. 9 from 1:30 to 4 p.m. in the North Quad.
Click here for more from the Torch's lifestyles section.