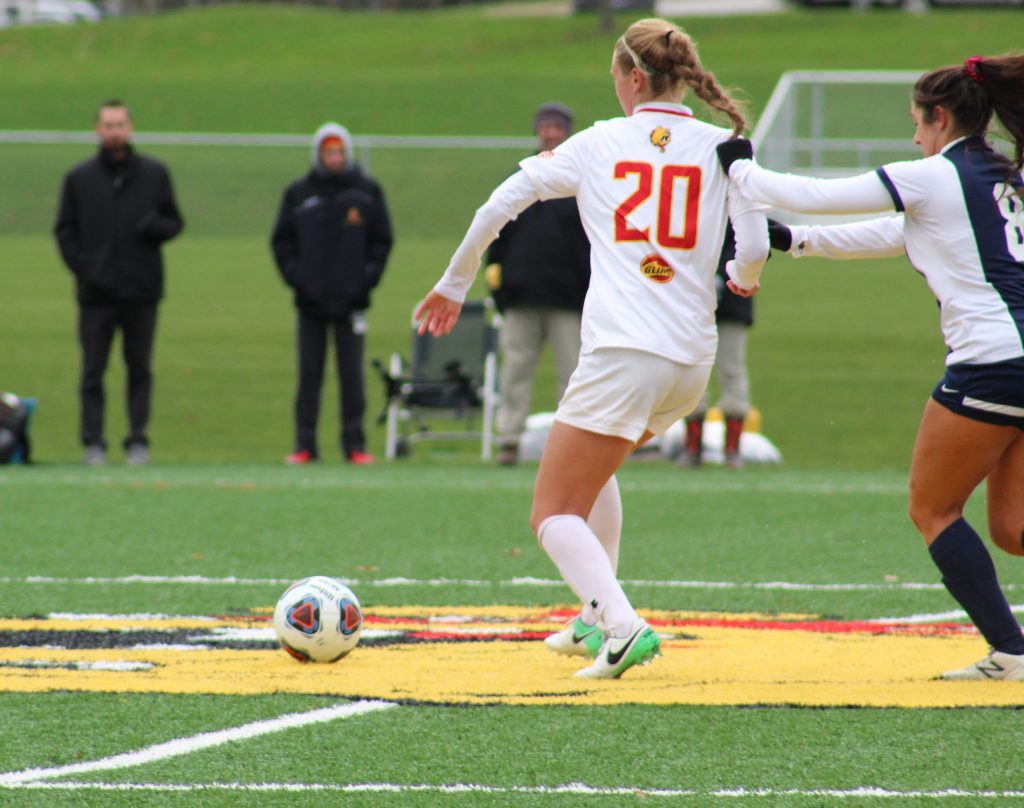 Ferris soccer is heading to the off-season a little quicker than most expected after falling in the GLIAC quarterfinals.
The Bulldogs fell 2-1 in a tightly contested matchup with Saginaw Valley State University Tuesday, Oct. 31. The Bulldogs were surrounded by high expectations just four days prior to the conference tournament after knocking off arch-rival GVSU for the first time since 2002.
It was the first season that Ferris was eligible to host postseason play after the university updated the team facilities and field areas but the loss on home field certainly wasn't the result the team expected.
"It was tough and obviously not the result we wanted," senior Carley Dubbert said. "We all felt it ended too early."
The Bulldogs finished the season with a 6-3 record in conference play while sporting an 11-8 record overall, a huge improvement over the 6-8-4 record from a year ago. The team made all that improvement while boasting a rather large class of 14 freshmen trying to work their way into the system.
The team was led by Dubbert who found a way to consistently score on a team that struggled early in the season. Dubbert contributed just over a quarter of the entire team's offense with nine goals and three assists for 21 points on the year.
"I enjoyed being able to play offense again this year and being someone my team can look to for leadership. I just wish I was able to do more in post season to help carry the team further," Dubbert said.
The highlight of the season came a few days before Tuesday, Oct. 31, when the Bulldogs were able to defeat GVSU on Dawg turf, as the Lakers came to the match as the top-ranked team in the region.
"It was probably one of the most exciting moments of my life," Dubbert said. "Those moments are the reason you put in the long hours and sacrifice. Everyone played their best that game and it was one of the best team victories I have been a part of."
After failing to win the GLIAC title, the Bulldogs need to be added into the NCAA tournament as an at-large team in order to continue playing. It would be the first NCAA tournament appearance ever for the club.
Click here for more coverage of the Ferris soccer team.