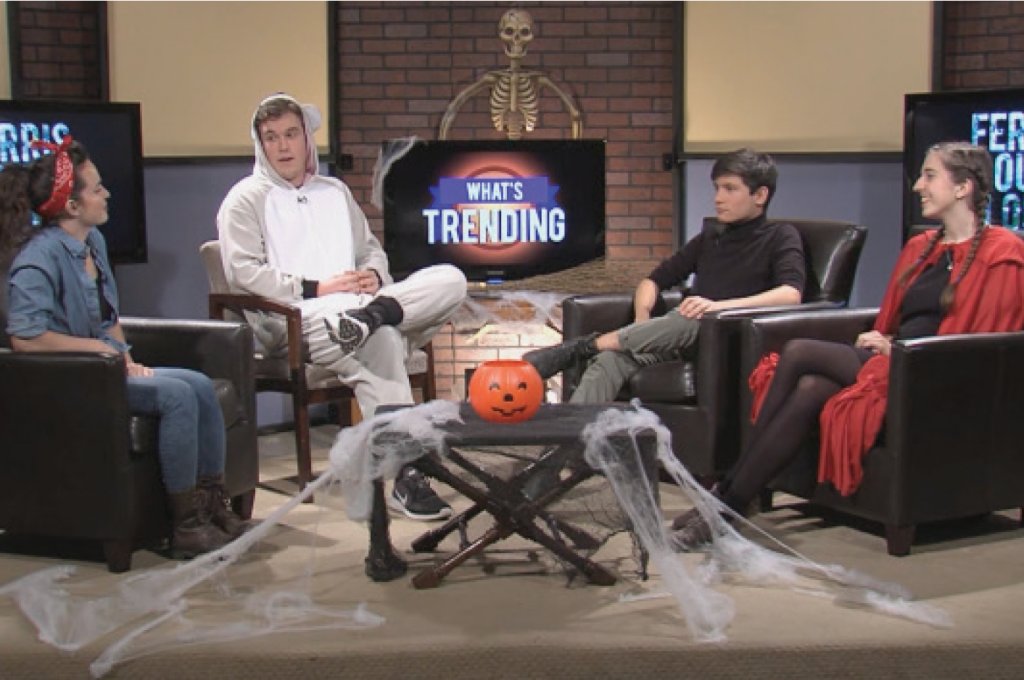 As October came to an end, students celebrated Halloween in any way possible, including the "Ferris Out Loud" television show.
Ferris pre-nursing and healthcare administration junior Nicole Majeske found the Halloween edition to be one of her favorite editions because she was more able to express herself.
"We were able to pick our costumes. I personally did Rosie the Riveter because it has such a strong message behind it from all women and for equal rights for all," Majeske said.
During the edition, the three hosts, Majeske, Josh Colon and Lucas Orosco, along with guest host Alysha West, discussed their favorite Halloween movies, the debate of putting up Christmas trees after Halloween and bad costume designs.
Ferris human resource management senior Josh Colon dressed up in a koala bear onesie to celebrate Halloween for the episode.
"I liked going back to my childhood memories. I loved "Hocus Pocus" as a child. I remember my parents and my brother—who is two years older than myself—and we went to Blockbuster most of October to literally get a bunch of Halloween movies and "Hocus Pocus" was always on the main list. So I loved talking about that," Colon said.
Ferris pre-pharamcy sophomore Lucas Orosco said that he enjoyed the relaxed atmosphere of the show.
"I liked talking about festive Halloween moments like "Hocus Pocus" and "Halloweentown." There wasn't a lot of serious issues or controversial topics which was nice," Orosco said.
"Ferris Out Loud" is a class that television digital media production (TDMP) students must take to earn their degree. It is run by the Ferris executive director and TDMP professor Glen Okonoski.
"I think in general it is really beneficial because it gives various perspectives. We get along pretty well and when you're getting different perspectives, it makes for a better show. So I love it," Colon said.
"Ferris Out Loud" can be watched on Vimeo, Facebook, Instragram and Twitter.