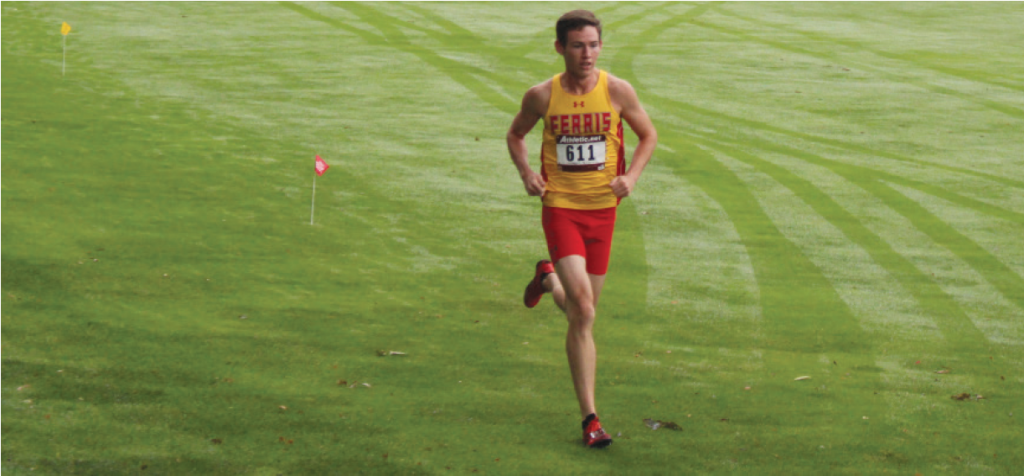 The Ferris men and women's cross-country programs ran through Cedarville, Ohio for the 2017 NCAA Division II Midwest Region Cross Country Championships to finish off their season.
A cloudy, 50 degree November day was the last time that seniors such as Trevor Holowaty would lace up their shoes for Bulldog cross country. Though the Dawgs won't be going on to compete in the NCAA National Championships, Holowaty said that he was happy that his team gave it their all.
"I am happy with my performance but I am proud of my teammates for putting in the work to get here," Holowaty said. "It's all a team effort. This season was one of the best I have ever had and I wouldn't want to spend it with any other team." Holowaty, an all-league first team honor recipient, finished the men's 10K in 10th place, leading the pack for the Bulldogs. Out of 29 teams, the Bulldog men finished 15th as a unit.
Holowaty gave a lot of credit for the team's success to Head Coach Jared Kelsh, claiming Kelsh's passion and love for the sport is what keeps the team running.
"I am very excited to see how this team develops and progresses after my graduation," Holowaty said. "I have some high hopes for these guys and I know that they won't disappoint."
One of "those guys" is junior Damien Halverson, a second-team all-conference runner who is usually on the heels of Holowaty when it comes to finishing races. Halverson was disappointed in his performance at the Midwest Regional but said that he is looking forward to the future with six of the top seven runners returning next year.
"I'm hoping that the other three juniors and I can come together and run well as a pack next year," Halverson said. "It will be our last season together and I would love to be a part of the first team to go to nationals since 2012."
For the Bulldog men's team, 2012 marked the end of a 27-year stretch since the last time they qualified for nationals.
"It obviously takes all seven guys and I'm really banking on the freshmen having the experience of their first season to propel into next year and I'm confident they will run well next fall," Halverson said.
As for the women, they placed eighth out of 18 teams overall in the Midwest Regional. The top performer for the women, sophomore Kathryn Etelamaki, placed 12th out of a pool of 147 runners. Etelamaki said that their top seven runners finished with season bests but now they look toward track season.
"We have some quick freshmen this year with incredible mid-distance speed," Etelamaki said. "We have a lot of potential this year and with the help of our coach, we will accomplish more in the next indoor and outdoor seasons."
As a sophomore, Etelamaki has a couple of seasons left but the Bulldog women will be saying goodbye to seniors Kelly Babcock and Natalie Perry.
"These aren't small losses, Kelly adds such a fun element and is looked up to on the team," Etelamaki said. "Natalie is the toughest athlete I know, she has run through ten stress fractures. They will both be missed next cross season."
With over ten returners to the women's cross-country team in 2018, Etelamaki said she's excited to see what they can accomplish with experience under their belts.
The men and women Dawgs will be back to their running ways when the track and field season begins in December.
Click here for more from the Torch's sports section.