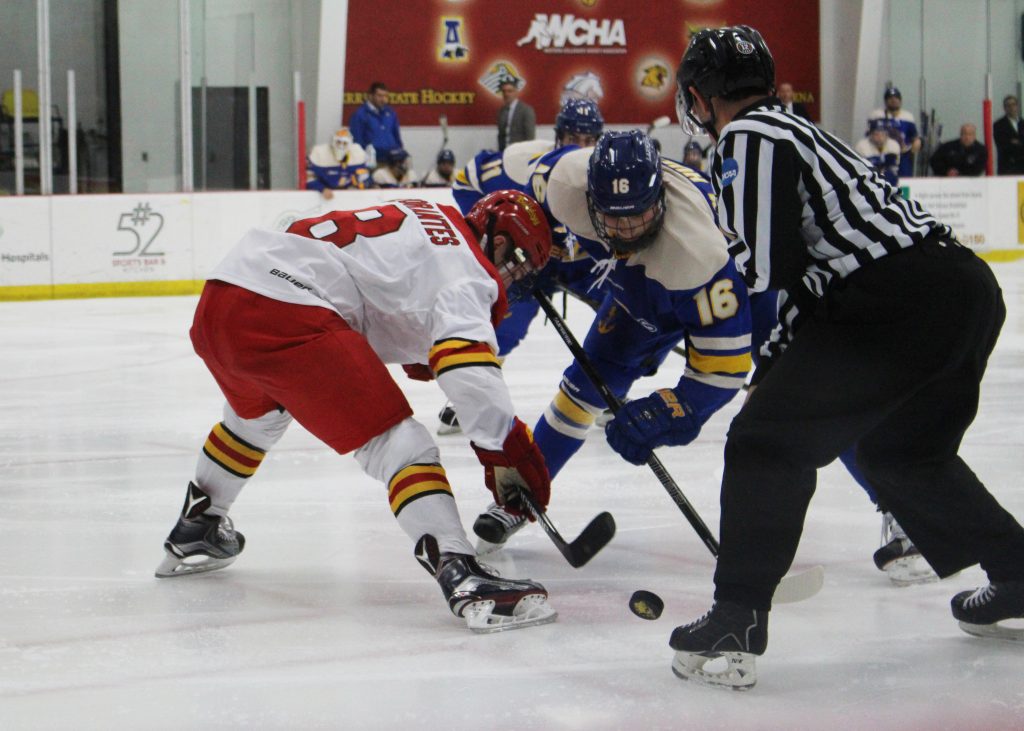 The Bulldogs will be back on home ice this weekend when they host the Alaska Nanooks both Friday and Saturday night at Ewigleben Ice Arena.
The Bulldogs (3-6-1) are set to host their first game at Ewigleben Ice Arena since Saturday, Oct. 14 (1-0 loss to Northern Michigan) after returning home from a six-game road trip spread out over the past three weekends.
Though the Bulldogs struggled to find any consistency while away from home, the team is coming off a thrilling 3-2 overtime victory over Michigan Friday, Nov. 3. The first Bulldog win at Yost Ice Arena since 2006 has certainly provided a boost for a team in need of some wins.
"It was big for us. We're going back to Ferris and it will be great to be back at home in front of great fans. We're looking to push forward here and turn this ship around," defenseman Ryker Killins said.
The Bulldogs split weekends with Mercyhurst and Michigan on the trip while tying and falling in regulation in two games against Bemidji State. Through the team's first four conference games, the Bulldogs have only been able to muster a single point in the Western Collegiate Hockey Association (WCHA) standings.
Right now, the single point has Ferris State sitting in last out of the ten-team conference. Though the Bulldogs have played better than their record shows, the team knows it's time to translate the play into wins in the standings.
"First we got to find a way to get in the top eight to make the playoffs. Knowing that we started off 0-3-1, I think there's a little bit more pressure on us," head coach Bob Daniels said.
Through the first ten games of the season, the Bulldog's biggest area of concern falls on their special teams play. Heading into the weekend, both the Bulldogs powerplay and penalty kill sit at ninth in the conference. The Bulldogs have only been able to score on five of their 40 powerplay opportunities while killing off just 70 percent of their penalties to start the season.
Alaska (3-5-2) may just be the team the Bulldogs need to see as the Nanooks come into the weekend in dead last in powerplay scoring with just three goals on 46 tries. Ferris will certainly use the weak Alaskan powerplay as an opportunity to improve their penalty kill game but aren't overlooking the Nanooks ability to score on the man-advantage.
"We got some work to do on our penalty kill, but we're going to keep working at it until we get it right. I'm just disappointed it's taken us as long as it has to become very proficient at it," Daniels said.
Another area of concern for the Bulldogs early this season has been their inability to find the back of the net. The Bulldogs who have yet to score more than three goals in a game have scored just 17 goals in their first ten games. Their 1.7 goals a game average has them in last in the conference and is well behind Alaska Anchorage who sits in ninth place with an average of 2.0 goals a game.
There have been a few bright spots on the offensive side of things so far for the Bulldogs as senior forward Mitch Maloney has jumped out of the gate with a team-leading five goals so far along with a pair of assists. Maloney is tied with junior Corey Mackin for the team lead in points with seven as Mackin has a goal and six assists in just eight games.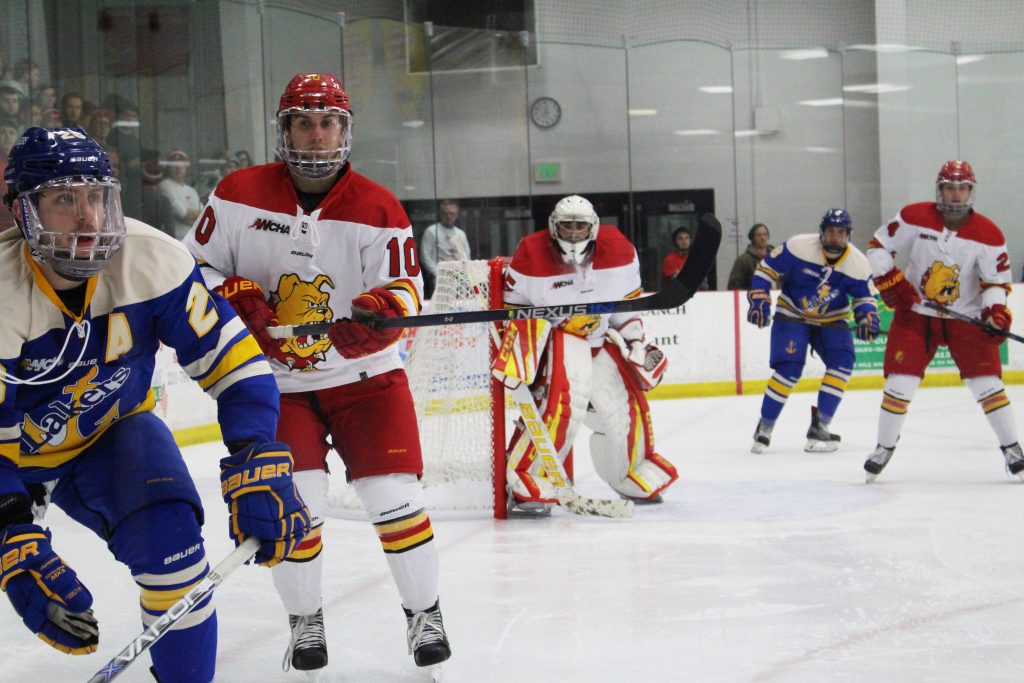 "I see the goal scoring starting to get better. Part of it has been we just haven't had our lines and haven't had the chemistry. I think it's going to be a work in progress so consequently we're going to have to be very good defensively," Daniels said.
The Bulldogs have gotten solid goaltending out of both of their netminders to start the season. Darren Smith heads into the weekend with a 2-2-1 record with a .909 save percentage and 3.17 goals against average.
Justin Kapelmaster earned his first win of the season (1-4-0) with a 42-save performance in the 3-2 overtime victory over Michigan and has posted almost identical numbers as Smith with a .913 save percentage and a 3.17 goals against average.
Alaska comes into the weekend sitting in sixth place in the conference with a 1-2-1 conference record through four games. The Nanooks picked up their first conference win Friday, Nov. 3 in the first game of a series they split with fifth place Bemidji State.
Thanks to a shootout win against Bowling Green State back on Oct. 28, the Nanooks sit with five points in the conference standings, meaning the Bulldogs would need a sweep to leap them in the standings this weekend.
"In our conference we have three new head coaches, Alaska being one of them so for us the tape is going to become valuable to watch and try to get an idea of their style of play. Alaska has always been a team that plays pretty up tempo," Daniels said.
Senior defenseman Justin Woods, like Maloney, has jumped out to a hot start for the Nanooks with six goals and an assist through the first ten games of the season. Meanwhile the Nanooks are led in scoring by freshman Steven Jandric who has adjusted to the college game well with a goal and seven assists for eight points.
The Nanooks have quite a bit of depth up top with their scoring as sophomores Kylar Hope (3G-4A-7Pts.) and Colton Leiter (2G-5A-7Pts.) are right there with Woods and Jandric at the top of the Nanook scoring charts. Alaska's offense is third in the WCHA currently, scoring an average of 2.80 goals a game.
Dating back to the end of the 2013-14 season, the Bulldogs have gone just 2-5-3 in their last ten games against the Nanooks. Remarkably, the last five games of the series have all needed extra time to be settled and three of those have finished in ties.
Saturday's game is the Veterans Appreciation game. All veterans can receive two free tickets to the game and all branches of the military will be recognized during media timeouts. There will also be a Salute to Veterans exhibit in the concourse area.
"It's the least we can do for the veterans. I'm very appreciative of what these men and women have put themselves through in order to secure our freedoms. I know our players feel the same way. For us it's an honor to be able to even be associated with those men and women," Daniels said.
Both Friday's and Saturday's game are set for a 7:07 p.m. faceoff.