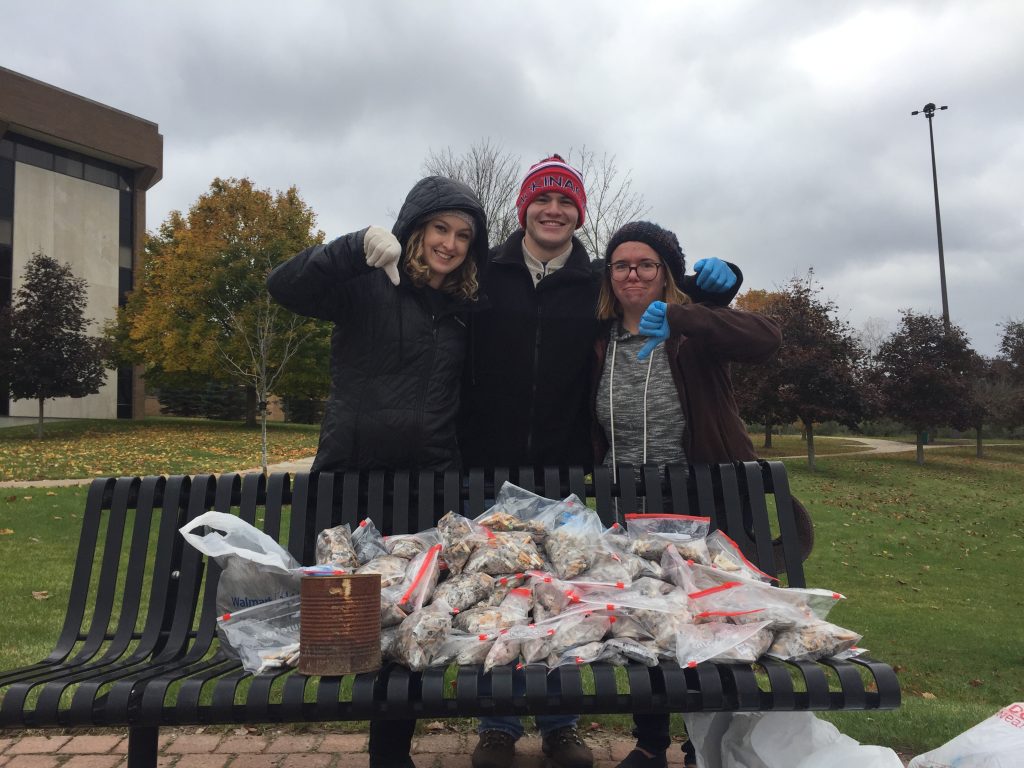 Ferris is working towards a tobacco-free campus after receiving a grant from the American Cancer Society earlier this semester.
The Public Health Student Association (PHSA) hosted the campus-wide event called Spook Butts Out on Tuesday, Oct. 31 from 9 a.m. to 7 p.m., during which students picked up cigarette butt litter off of Ferris property. The collected cigarette butts will be put on display Thursday, Nov. 16 in the University Center, according to Ferris public health senior and Vice President of PHSA Anthony Picard.
"We're hoping to display just how much litter is actually laying around here on campus that otherwise wouldn't be here if we did go tobacco-free," Picard said.
Picard estimated that more than 100 participants picked up cigarette butts throughout the day, including RSOs such as nursing and dental hygiene, Active Minds and Colleges Against Cancer.
"We've actually had a pretty good turnout," Ferris public health senior and President of PHSA Alyson Hill said. "We didn't think we'd get as many as we have. Even classes are coming out, so that's pretty cool."
Students participated for a variety of reasons. Picard was interested in the environmental benefits of picking up the litter.
"What people don't take into account is that there's an environmental impact from cigarette litter," said Picard. "Cigarette litter is in the top five pollutants that's out there in terms of raw poundage. So it's just a giant problem and if we went tobacco-free, the number of cigarettes on campus would go down substantially and that would reduce the environmental impact that the student body has."
Ferris health care systems administration junior Paige Ohlman hopes the display of cigarette butts will help people see the severity of the problem.
"I just want them to be aware of how big of an issue it is and it's not a very healthy behavior. Maybe by seeing how many cigarette butts there are, people will be like 'wow. This is a really big problem. Maybe I should reconsider smoking,'" Ohlman said.
Other students hope this movement will create a larger reaction.
"Ferris State is one of the only spots where smoking is still allowed here," Ferris public health junior Jaivon Caldwell said. "If you look at Michigan State, even Central, you can't smoke on their property at all. When you come to Ferris, it's wide-open game. So we're just trying to get more students aware that we are kind of the last university to get this thing going. So we're trying to be the ones that start it, so eventually all of Michigan can say they're smoke-free campuses."
Hill hopes this is the first step in eliminating tobacco on campus.
"Cigarette butt litter is causing a lot of damage to our campus," Hill said. "It's not looking very pretty. And we'll hopefully start the initiative for a tobacco-free campus."
Click here for more information on the initiative to cut out tobacco use on campus.