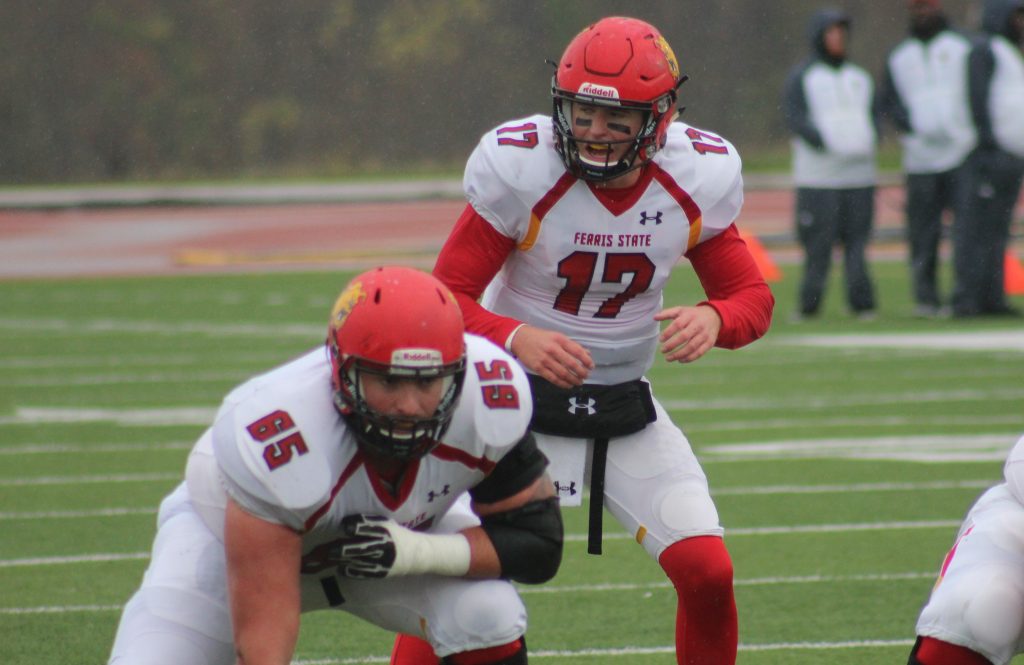 What do you do when your star quarterback is dealing with a nagging injury?
This is the question the coaching staff for the Ferris football has team has faced time and time again this season and the answer has consistently been to let sophomore Travis Russell take center stage.
Russell took center stage yet again Saturday, Nov. 11 and delivered the Bulldogs their seventh straight win in a 49-7 victory over the Michigan Tech Huskies.
The sophomore has turned into a seasoned veteran this year and it showed as he put up Reggie Bell-esque numbers. Russell threw for 174 yards and four touchdowns and added 38 yards and a touchdown on the ground.
While Russell's numbers stand out for the Bulldogs, the defense really made the difference, allowing a lone touchdown the entire game.
Pressure on the Huskies' quarterback was constant, with junior stalwart Zach Sieler recording a sack and 2.5 tackles for loss. Senior Dylan Roney also was a force in the back-field hitting the quarterback multiple times and recording a sack of his own.
The Dawgs also surprised fans and the opponent on multiple occasions, including when linebacker Nick Huckabay nearly took a fake punt to the house.
Ferris ends their regular season with a 9-1 overall record and an 8-1 record in the Greater Lakes Intercollegiate Conference (GLIAC). That conference record earns them a second place finish, with the Ashland Eagles the only team with a better record.
The Bulldogs were looking for a solid performance not only to propel them into their post-season, but to help secure a home field advantage in the first round. As of now, it appears the Bulldogs will be playing at Top Taggart next weekend, but we'll have to wait until the NCAA selection show Sunday, Nov. 12 to know for sure.