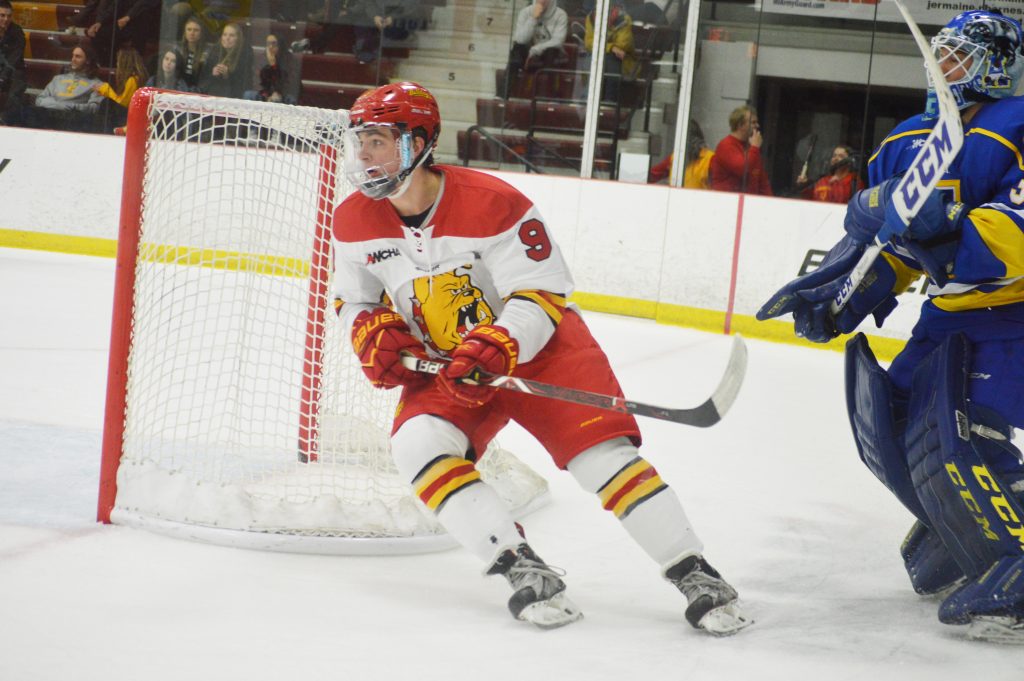 For the first time this season, the Bulldogs have won their second game in a row thanks to a 3-1 victory against Alaska at Ewigleben Ice Arena on Friday night.
The win was also the first conference victory of the season for the Bulldogs who now sit just one point behind the Alaska Nanooks in the standings. Ferris used a strong middle frame along with tight defensive play and solid goaltending to get the win in their first home game in nearly a month.
The Bulldogs got their powerplay going early when defenseman Cameron Clarke took a pass from Lucas Finner and blasted one in from the point to put the Bulldogs up 1-0 just 4:04 into the game. It was Clarke's first goal of the year.
Alaska responded with a powerplay goal of their own just 4:21 later when James LaDouce found a pass from Steven Jandric and ripped one by Ferris goaltender Justin Kapelmaster to tie the game at 1. The Nanooks came into the game ranked near the bottom in the nation in powerplay scoring, converting on just 3 of their 46 opportunities before LaDouce's goal.
The Bulldogs carried the play for most of the second period, outshooting the Nanooks 17-3 in the middle frame. Ferris State took the lead thanks to another powerplay goal 11:37 into the second period when defenseman Ryker Killins made a great play on the puck and set up Coale Norris perfectly who potted his second goal in as many games.
Lucas Finner almost found the back of the net shortly after the Norris goal but hit the post. The Bulldogs kept up the pressure throughout the period and had a few more quality chances but Alaska goaltender Anton Martinsson did all he could to keep the Nanooks within one.
Alaska started out the third with a hop in their play as they had 3 breakaway opportunities but couldn't convert. One play was whistled down for a penalty shot but Kapelmaster stood tall in the net and stopped the Nanook attempt to keep the Bulldog lead at 2-1.
The Bulldogs defense tightened up the remainder of the game and Kapelmaster was able to shut the door. Forward Mitch Maloney found an empty net with just 1:00 remaining in the game to seal the victory.
The two teams will square off again Saturday at 7:07 p.m. for the annual Veteran's Appreciation game at Ewigleben Ice Arena.