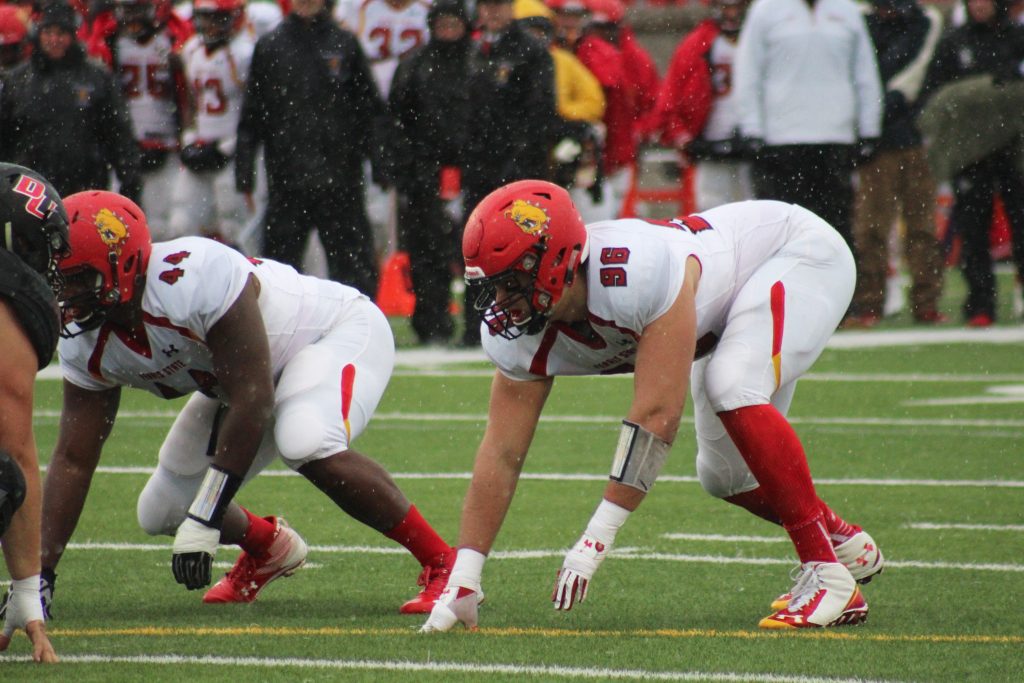 A lot of uncertainty surrounds Ferris junior defensive lineman Zach Sieler as the off-season nears within the upcoming weeks.
Sieler, a 6-foot-6-inch Pinckney native, has garnished some recognition for his outstanding play throughout the past two seasons and has many wondering if the NFL is calling his name.
Currently, the Bulldogs are preparing for what is becoming their annual trip to the playoffs after finishing the season with a 9-1 record but fans may be concerned that it will be the last playoff trip that Sieler is part of.
"There's a lot of talk of me leaving this year and obviously that's a big question. For me, I'm trying not to look ahead. I'm trying to just play game by game and just see where I end up after the season," Sieler said. "I'm not trying to get entangled in all the thoughts and get my mind wrapped up in it. Instead, I'm just trying to perform each week."
Sieler was awarded for his hard work and dominant play at the end of last season, when he was named National Defensive Player of the Year, GLIAC Defensive Lineman of the Year and earned consensus All-American and All-Region honors.
Sieler was among the top in the nation with 29.5 tackles for loss and 19.5 sacks. The 19.5 sacks smashed the previous Ferris record of 13 set by former teammate and current member of the Canadian Football League's Montreal Alouettes, Justin Zimmer.
"He's made himself a dominant, physical player. It was one of those situations when he came in, nobody could have expected it," Head Coach Tony Annese said. "What's great about him is his motor never stops. To have great physical attributes and then to be so driven to make every play, it's a full package."
Heading into the playoffs, Sieler has 51 tackles and leads the team with six sacks and 16.5 tackles for loss. He also has a forced fumble and has recovered two fumbles on the season. Though this year's numbers don't quite compare to those of last season, Sieler has looked as dominant as ever while facing offensive lines geared to focus on stopping him.
Not only has Sieler looked strong going up against double and sometimes triple-team coverages, the shifted focus from offenses has made jobs for the entire defense much easier.
"You know from a game plan standpoint, the opposition has to try to figure out how to stay away from him. We can move our schemes around to play off his strengths and also kind of give a sense of what the offense wants to do," Annese said.
If Sieler did decide to head for the pros this off-season, he would be joining the ranks of some Bulldogs who have recently continued playing professionally in Jason Vander Laan, Jake Lampman and Justin Zimmer.
Though none of those players have received any significant playing time in the NFL, knowing that is possible from a Division II player provides a bit of hope for Sieler's dream to one day be chasing quarterbacks on Sundays.
"It's really nice talking to them because it shows it can be done and it's been done recently and it's possible. I can ask them questions and they can help me with the process and they've been so helpful," Sieler said.
For now, Sieler and the Bulldogs look to take a step further than last year and bring a national championship home to Big Rapids.
"We got a taste of it last year, making it to the semi-finals and playing a team that ended up winning it all. We know what it takes now since we've been so close. Our goal is to definitely go all the way this year," Sieler said.
Click here for more coverage of the Ferris football team.