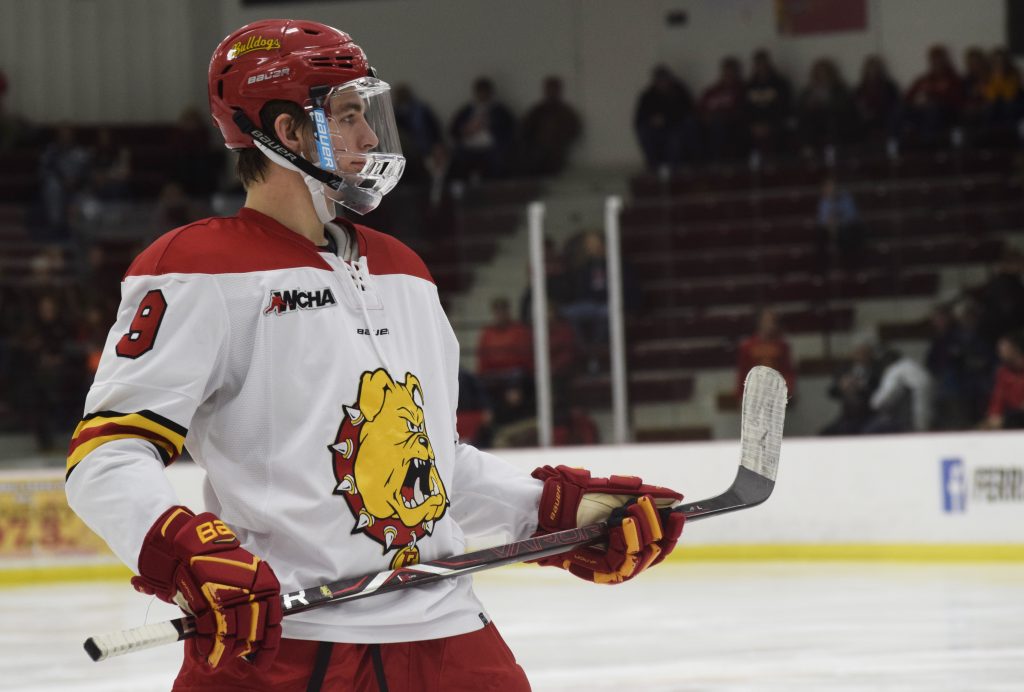 Ferris suffered their first loss in four games on Friday against Michigan State 3-2 in overtime.
After being heavily outplayed throughout the first half of the game the Bulldogs came storming back and controlled the play for a good portion of the third period, coming back from a two-goal deficit to tie things up at two.
The Spartans ended the Bulldog feel good with 1:13 remaining in the overtime period when Taro Hirose fired one home off a pass from Mitch Lewandowski. The play was reviewed as it appeared the puck hit the cross bar then post and barely crossed the line. It was signaled a good goal and the Spartans stormed the ice.
The Spartans opened the scoring when Lewandowski found himself alone at the bottom of the slot to the right of Ferris goaltender Darren Smith and ripped one by the glove of Smith 3:17 into the second period.
It was Lewandowski again who would give the Spartans a two-goal lead when a Bulldog turnover was picked up by a breaking Spartan who fed it to Lewandowski who sent one top-shelf above a sprawling Smith.
The Spartans controlled much of the play, outshooting the Bulldogs 25-4 before Ferris State pieced together a strong second period finish. The Bulldogs took claim to the last ten shots of the middle frame including Mitch Maloney's goal late in the period.
Maloney picked up a loose puck in Bulldog territory and raced down the side of the ice, gaining room on the Spartan defenders and fired one right by Michigan State goaltender John Lethemon to put the Bulldogs back within one with just 26.9 left in the period.
The Bulldogs carried over the strong effort into the third and defenseman Ryker Killins continued his hot streak when he threw one on net that found its way in to tie things up with just 4:24 left in regulation.
Darren Smith saw his first start since the Bulldogs 7-2 loss against Michigan (Nov. 2) and played well, stopping 31 of the 34 shots he faced on the night, including a couple sprawling efforts in the first and one save in the second period that reminded most fans in attendance of Red Wings-great Dominik Hasek.
The Bulldogs look to get back to the winning ways tomorrow night (Nov. 18) back at Ewigleben Ice Arena for a rematch with the Spartans at 7:07 p.m. Saturday's game is the annual teddy bear toss game at Ewigleben.