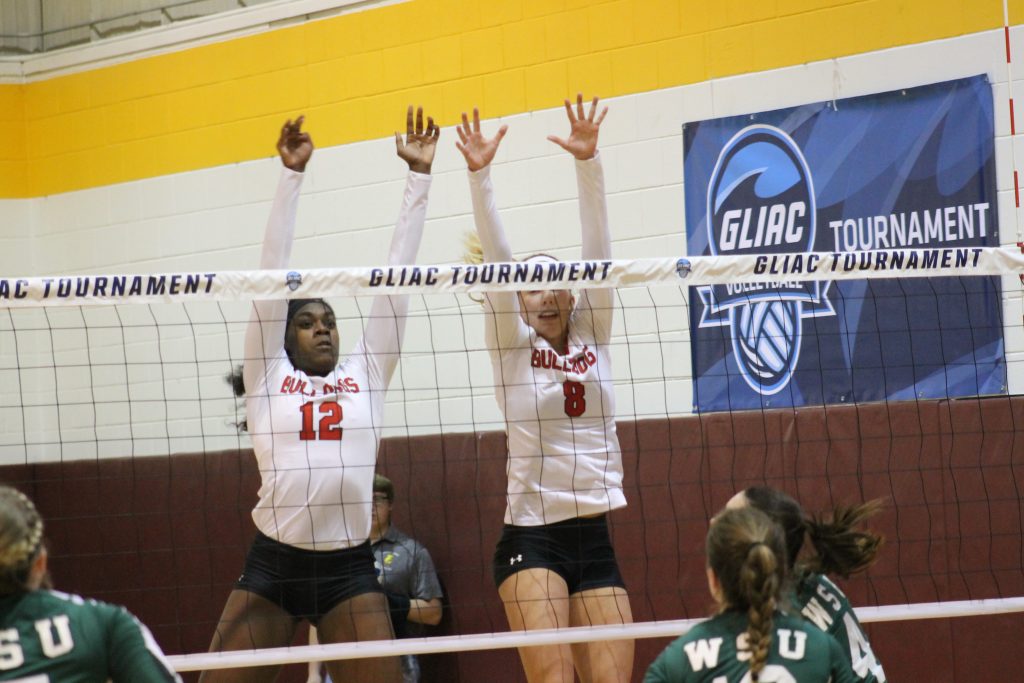 Chalk up another Great Lakes Intercollegiate Athletic Conference (GLIAC) finals appearance for the Ferris volleyball team.
The Bulldogs recorded a dominant 3-1 victory when they took on Wayne State Saturday, Nov. 18 in the semi-finals.
Things got a bit scary when the Bulldogs blew an 8-point lead in the first set and allowed Wayne State to take them down by a final score of 29-27.
The Bulldogs didn't appear to skip a beat however, as they rattled off three straight wins by scores of 25-18, 25-9 and 25-22.
Senior middle hitter Maria Kronner had a huge day for her team, recording a team-high 17 kills, assisting on five blocks and accounting for more than ¼ of her team's points, putting up 19.5.
Senior Ayanna Buckley and Sophomore Courtney Brewer were a force to be reckoned with in front of the net. The two combined for 10 assisted blocks and 3 solo blocks. Buckley also added 13 kills and 17 points to her repertoire.
Libero Lauren Reminga continued her dominant career as a Bulldog, leading the team with 27 digs.
This is just the latest in a string of wins for the Ferris volleyball team, and all signs point to them grasping their fourth consecutive GLIAC championship.
The Bulldogs will have to wait to see who they will meet in the finals, as Northern Michigan and Michigan Tech will battle to decide the final spot.
One thing is for sure though, Ferris will have home-court advantage no matter who lines up across from them Sunday, Nov. 19.